The Center for Women's History recently hosted a salon with Nancy E. Davis, curator emeritus at the National Museum of American History. In conversation with Karintha Lowe, our Mellon Foundation predoctoral fellow, Davis talked about the little known history of Afong Moy, the first-ever Chinese woman recorded to enter the United States and the subject of her book, The Chinese Lady: Afong Moy in Early America. Davis reconstructed several dimensions of Moy's biography by taking a wide historical view of her life. Through meticulous archival research, her work reveals how Moy's story intersects with celebrities of the day, including President Andrew Jackson and performer Tom Thumb, alongside the everyday men and women who flocked to catch a glimpse of the "Chinese Lady" for themselves. This Asian American Pacific Islander Heritage Month, we take a page from Davis's book and delve into Afong Moy's early life. In doing so, we also aim to answer a lingering question from our salon's Q&A: How exactly did Afong Moy end up in the United States? The answer is anything but clear cut.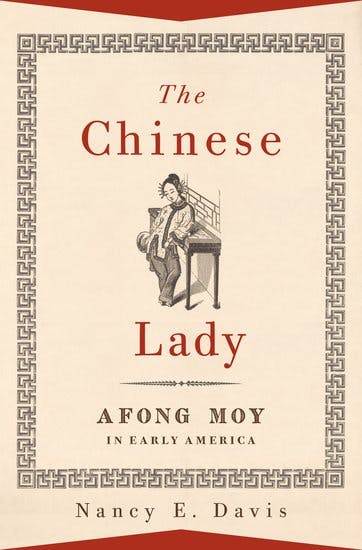 Moy arrived in New York City in 1834 under the care of the Carnes Brothers, a pair of American merchants known for mass producing Oriental wares. In a series of performances as the "Chinese Lady," Moy posed amidst vases, rugs, and other decorative objects—which would be available for purchase after her performance—and provided audiences with their first glimpses of an "Oriental" woman. 
Many of Moy's performances took place in New York City, held in the parlor of a local ship captain. Here at New-York Historical, we actually have an engraving of Moy's first home in the United States—she would have lived in the fourth house from the far-right corner on Park Place in New York City. Eight Park Place, however, was demolished in 1913, with the Woolworth Building erected in its place.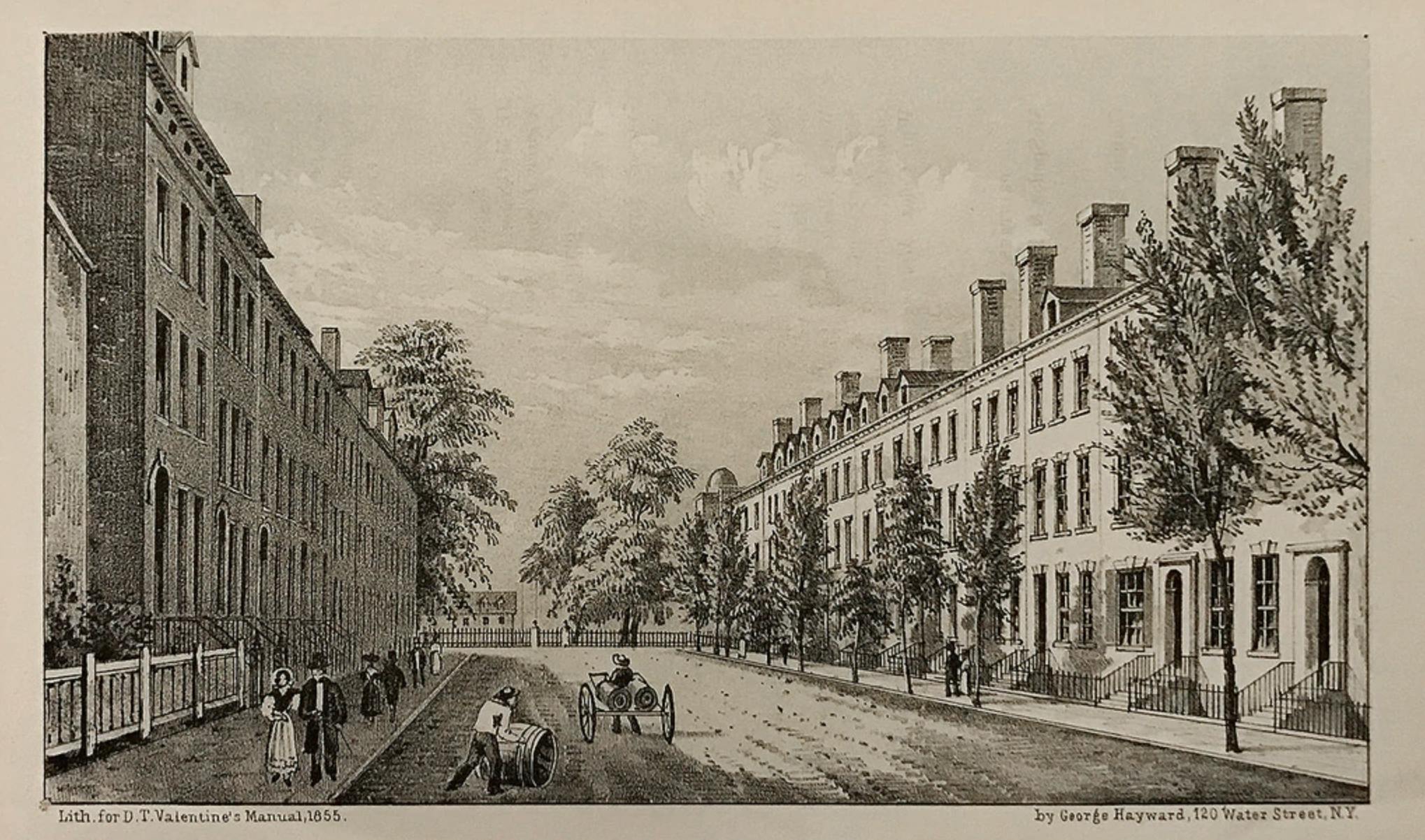 Like this home, most of Moy's residences no longer exist in material form, and she left behind no known personal narratives. Her biography primarily takes shape through secondary sources like newspaper clippings and the diaries of visitors to her shows. As we discussed throughout the salon, historians know much more about how early Americans perceived the "Chinese Lady" than we do about the actual lived experiences of Moy herself.
In order to drum up public attention, the Carnes Brothers circulated catalogues to highlight the truly exceptional nature of Afong Moy's presence in the United States. In the below broadside, for example, they boasted that "large sums of money have been expended, and great difficulties experienced, in overcoming the extreme jealousy of the Chinese, in allowing their females to be carried out of their country, or even to be seen by foreigners."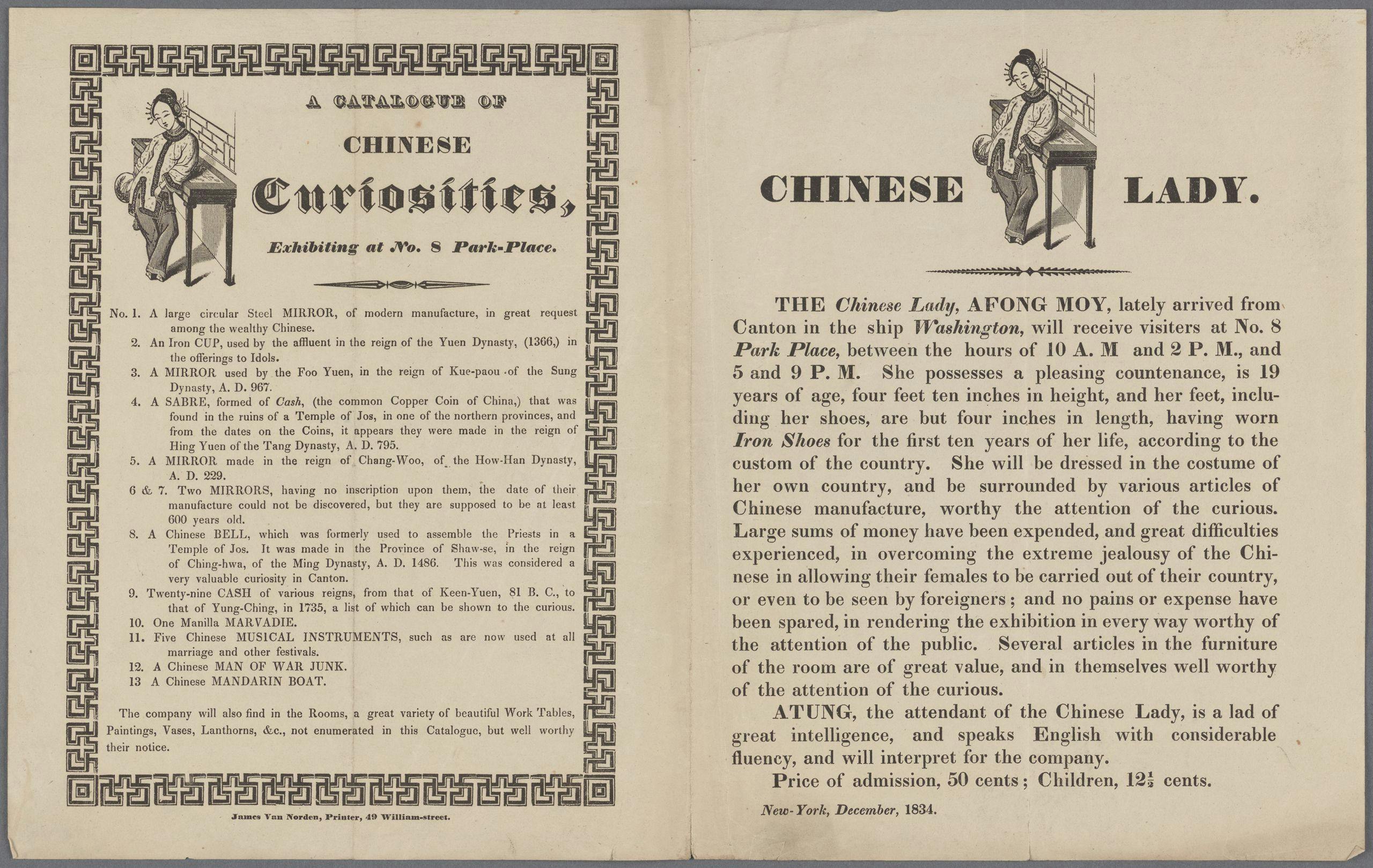 On the one hand, the Carnes Brothers weren't incorrect in noting Moy's exceptional status within the United States. On the other hand, foreign tradesmen based in China often encountered Chinese women. Within the bustling portside city of Guangzhou—the only trading port open to American merchants—Chinese women worked as servants for foreign families and provided laundry and mending services for sailors. As Davis notes, an entire contingent of Tanka, or boat women, lived on boats docked along the Pearl River Delta. Considered by the Han Chinese to be an inferior ethnic group, the Tanka were not permitted to own land and so created a vibrant industry around shuttling foreigners between cargo-laden ships and the Guangzhou shoreline. American tradesmen would have also observed female sex workers who resided in "flower boats" on the Pearl River—but the local Chinese government forbid foreigners from accessing them and kept sex workers under strict surveillance.
Did the Carnes Brothers or their ship captain encounter Moy through any of these venues? Likely not. For one, government regulations would have made it almost impossible for any foreign merchant—including the Carnes Brothers—to meet, much less bring to the United States, a Chinese sex worker. Moy also had bound feet, which meant that she was likely not a Tanka boatwoman, servicewoman, or laundress. Binding feet was a relatively costly process that would have made it difficult for a woman to move around and provide the labor necessary for these occupations. At the same time, Moy likely did not come from an upper class Chinese family, who would have gained little from sending their child off to the United States to work alongside American merchants.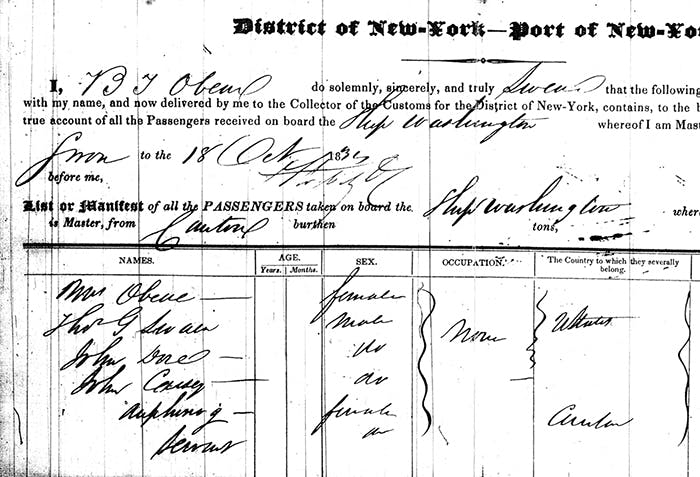 Moy was most likely the daughter of a middle class merchant family, who would have been able to afford their child's foot binding but might also have been persuaded to allow their daughter to travel to the United States for a high financial sum. During the 1830s, a particularly erratic and severe weather system had resulted in mass starvation across Southern China; perhaps, these extenuating circumstances made Moy's family more amenable to entering into a financial arrangement with the Carnes Brothers. And while no official records exist to document this arrangement, contemporary newspapers did speculate that Moy's parents had been "handsomely remunerated for her temporary absence." The key word, of course, being speculate. 
Moy's absence from China, as it turned out, would not be temporary. Instead, she would spend at least the next 17 years traveling across the continental U.S. in order to perform as the "Chinese Lady." And while we don't know where, exactly, Moy ended up after the conclusion of her performances, she had by that point left the care of the Carnes Brothers. It is highly unlikely that she would have ever found the financial backing necessary to purchase a return ticket back to Guangzhou.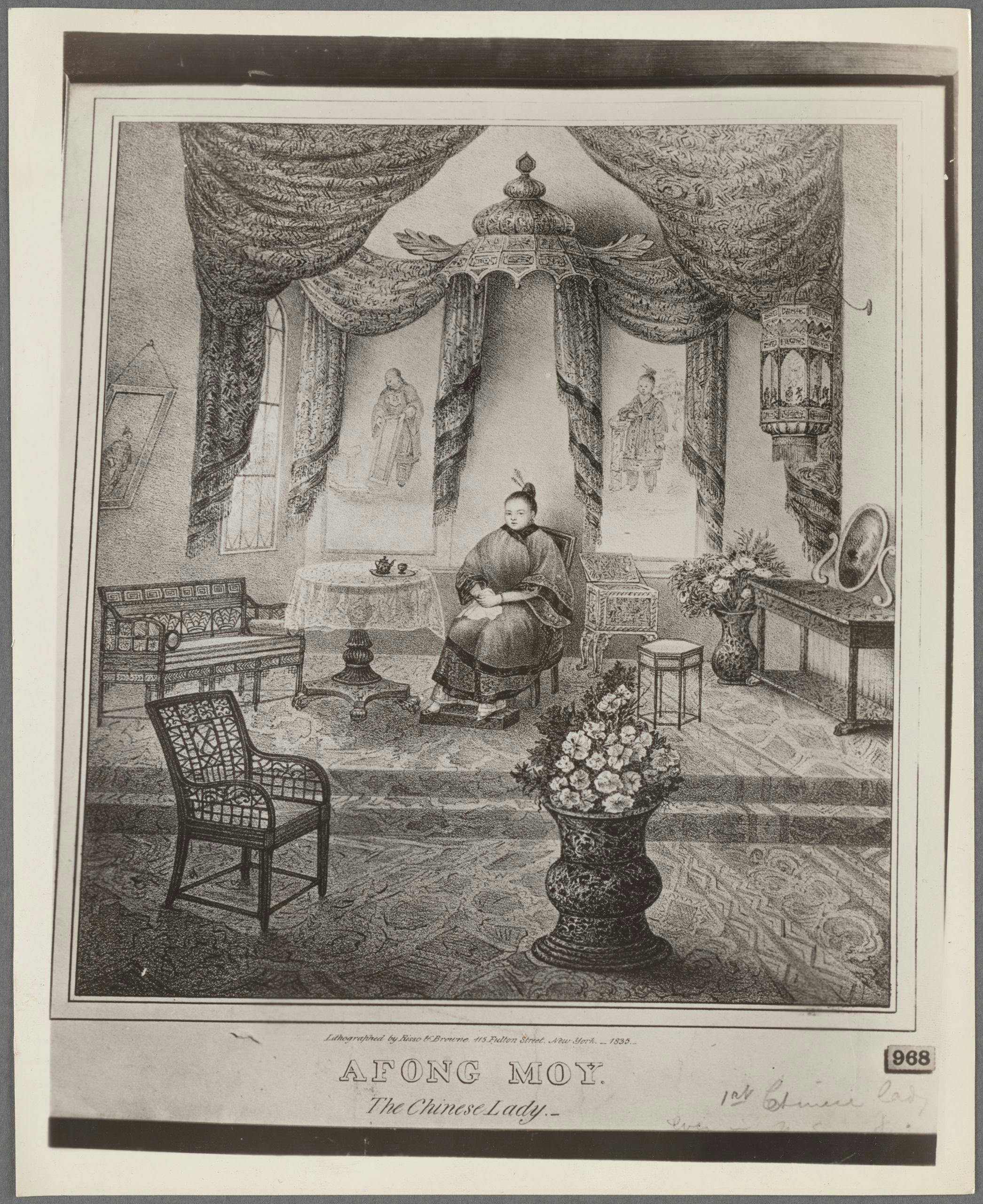 In this and many ways, Moy models the difficulty of searching for women's histories in the archives. While we can explore a few potential reasons why Afong Moy might have come to the United States—and rule out several theories for what she might have done prior to her journey—much of her story remains untold. Davis reminds us in a recent essay, however, the historian's task is often bound up in the "pursuit of pesky and elusive facts." She continues: 
"As an historian, I have often wished I could slip into the person I was researching and rewrite their story, especially one whose record is obscure and whose fate is unknown. 
[….]
But I could not. 
I could not abandon the complexity of the research on this person for whom I cared so much. My trade as a historian bound me to the facts and it was the only way I could tell Afong Moy's story."
This AAPI History Month, the Center for Women's History celebrates this important historical work and Afong Moy's story, which aims to imagine new strategies for recovering and interpreting the oftentimes unspoken narratives that inform U.S. history.
Written by Karintha Lowe, Mellon Foundation Predoctoral Fellow, Center for Women's History.