The Netflix show Bridgerton—now in season 2—is a spectacular adaptation of Julia Quinn's popular novel series. The show follows the eight Bridgerton siblings as they navigate society and love in the Regency-era England of the early 19th century. The series is notable for its color-blind, counterfactual casting and plots, and its equally fantastical period costumes. Still, how close to historical fact are Bridgerton's fashions?
The first two decades of the 19th century saw a dramatic shift in fashion, in large part due to revolutions of the previous century on both sides of the ocean. The collection of the New-York Historical Society reveals that Americans of a certain class and political standing participated in this global shift and adopted similar sartorial norms. Our Mellon Predoctoral Fellow in Women's History and Public History Keren Ben-Horin sheds light on what was really going in fashion at the time and why. 
A Huge Shift 
Eighteenth-century fashion is recognized for its magnificent size, color, and decoration. Like women, men during that time wore bright silks embellished with floral embroideries, as well as patterned textiles and elaborate wigs. The late 18th century was a dramatic time on in history. In France and the United States, new democratic societies were taking shape and gone were the royal courts with their strict etiquette and sartorial demands. 
While fashion in general changed, menswear went through the most significant metamorphosis. Powdered wigs and pink waistcoats with their lavish embroideries disappeared. Post-revolution menswear was serious and somber, and in many ways reflected the rise of the ideology of the separate spheres, which maintained that the public sphere was the sole domain of men while dignified women should be confined to the safe, domestic sphere. Fashion with a capital "F" was now associated with women's supposedly fickle tempers and unreliable natures, while "dress"—expressed in seemingly static style—was thought to reflect men's supposed natural logic and better fit for politics and government.
By the early 1800s, men's fashion adopted the principles that continued to govern it arguably until the end of the 20th century. Foremost, color was almost completely eliminated and replaced with a solid palette of black, navy, and white. Although the Bridgerton men wear black and navy head to toe, in reality men during that time period wore white or light-skin-toned pantaloons or breeches. This style inspiration came from Greek sculpture, with interest ignited by the excavations of Pompeii and Herculaneum (People erroneously believed Greek statues were always white. We now know that they were initially quite colorful and included many skin tones, but their colors faded over time.) Men's very tight pantaloons worked well to create a sculpture-like appearance of muscular and masculine legs. 
Fashion Icons
The eldest Bridgerton sons, Anthony and Benedict, are often dressed in immaculately tailored suits—but what's with that messy hair? For that, you can blame the British dandy George Bryan "Beau" Brummell, whose disdain for hair powder shifted the way gentlemen styled their locks. He was perhaps the greatest influence on 19th-century fashion, known for his exquisite, tailored suits, his painstaking attention to detail, and his invention of the instep strap in pantaloons to keep them stretched and streamlined from the hips down. His style shaped the standard for 19th-century men's dressing norms. Several portraits from our collection reveal the extent of his influence that persisted throughout the century and beyond.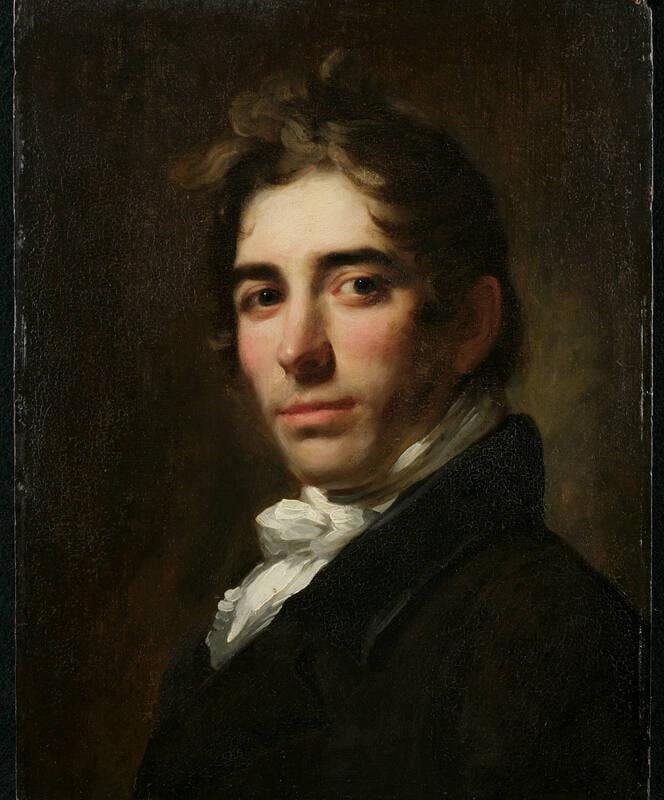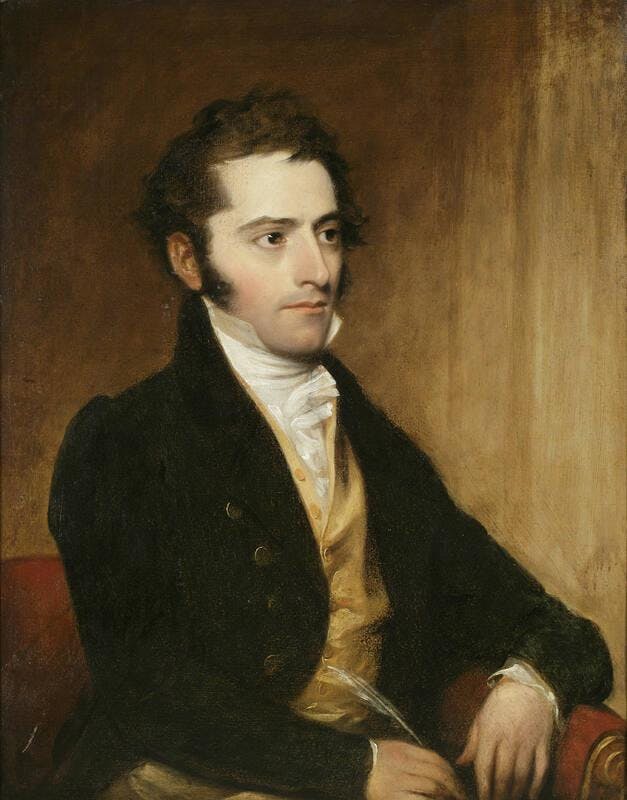 One of the most important features perfected by Brummell was the white cravat combined with a high, tight-fitting white collar. Brummell was known for starching his cravats in order to achieve the most crisp and stable knot. Every respectable man of the period wore one, though knot styles varied. While men discarded color for a monochromatic palette, one garment could still show some color: the waistcoat. The Dwight portrait features a silky, bright yellow waistcoat peeking out from under the wool coat. Waistcoats would sometimes have monochromatic patterns in darker colors like green, or be a bright pop color like this one. Cut was everything during that time: waistcoats, coats, and trousers were tailored close to the body—another Brummell influence that lasted for decades. Gold buttons, also seen in these portraits, were a signature menswear detail, inspired by military uniforms. Although it's not visible here, these coats were most likely double-breasted in keeping with the military trend.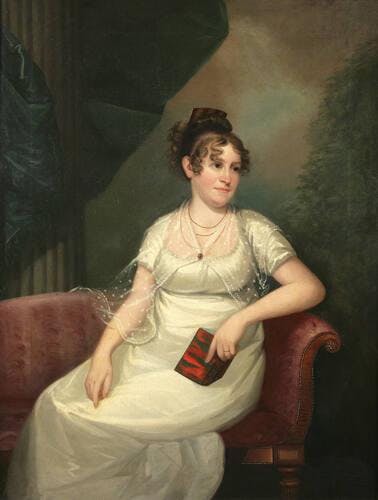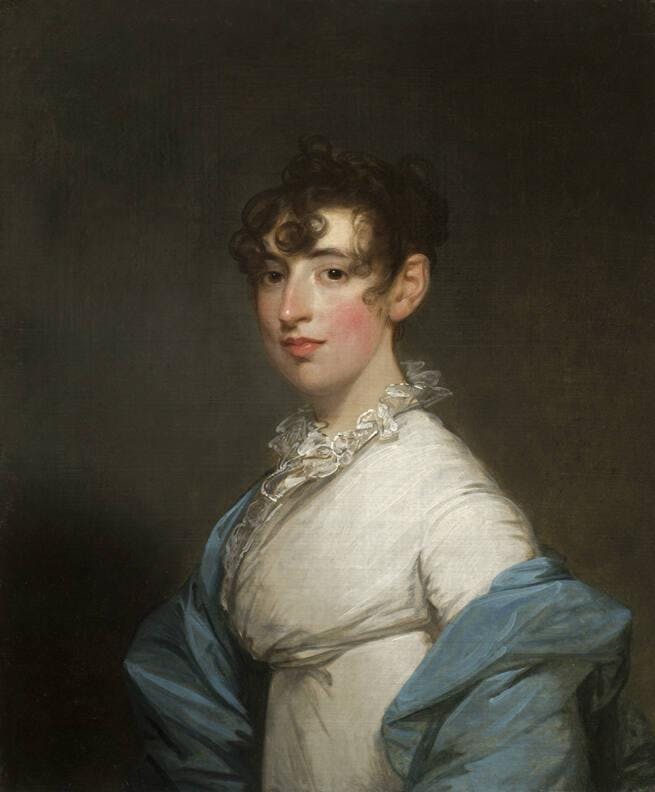 But what about the women? The female fashion icon of the time was indisputably the wife of Napoleon, Empress Josephine, but the major trend in womenswear was spearheaded by another ruler, who never saw her novel fashion sense being so widely adopted because, well . . . she lost her head. Like most fashion trends in the 18th century, wearing a white, flowy, and flimsy dress was a fashion innovation of Marie Antoinette. The infamous portrait by Elizabeth Louise Vigée Le Brun depicted the Queen in a white muslin dress that to most people looked like a chemise, the underwear of the period. The portrait enraged the French, who already saw the Queen as detached from her people. But then, following the French Revolution, wearing chemise dresses as they were known—not to be confused with the actual undergarment of the same name—became a social equalizer, especially in French and American democratic societies. It was clean from decoration, class, or court association, and harkened back to simpler days. Clearly, the Queen with her shepherdess fantasy dress-up was way ahead of her time. Also contributing to the wide adoption of the chemise dress was a new interest in Classical antiquity, as noted above. Fashion enthusiastically adopted a white and cream palette and an affinity for drapery. Influence of Greek statues can also be seen in curled hair. Although the white dresses of the period were inspired by undergarments and half-naked Greek statues, they were almost never sheer. In the late 1820s, white dresses were sometimes made from a sheer white layer over a colorful slip, a sign that color was slowly making its way back into fashion. 
The Key Accessories
We pointed out that men's and women's fashion grew apart in the early 19th century. Similarly, fashion accessories were gendered and classed. The must-have men's accessory was the pocket watch. It was the ultimate status symbol and often came attached to a fob (a chain) or a key like this one from our collection. Pocket watches signaled that men like Anthony Bridgerton were in charge of "keeping" time and managing their family and businesses. By mid-century, pocket watches were no longer strictly masculine, and wealthy women also had special pockets sewn onto their dresses specifically to fit a small watch. By the late 19th century, pocket watches were mass produced and could be purchased from mail-order catalogs in a variety of designs and prices.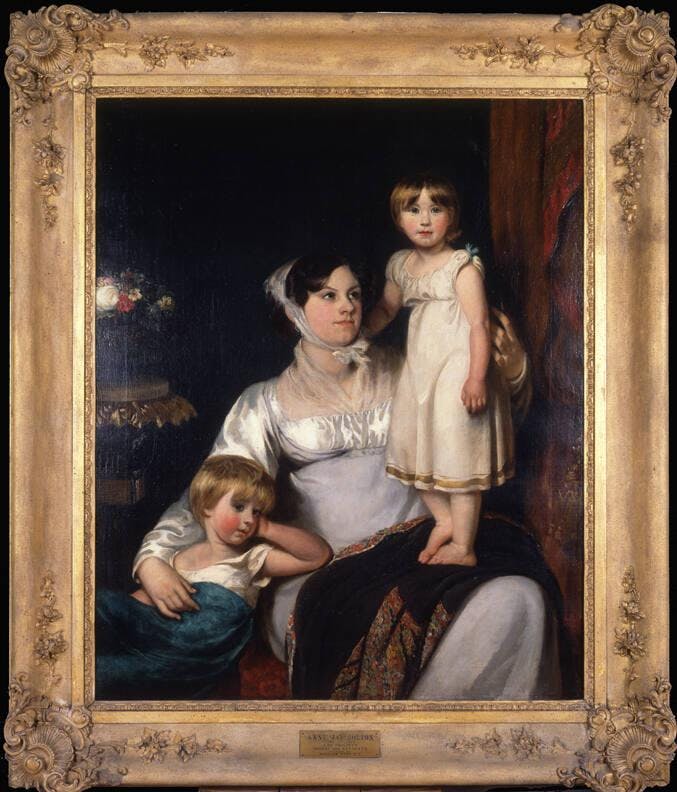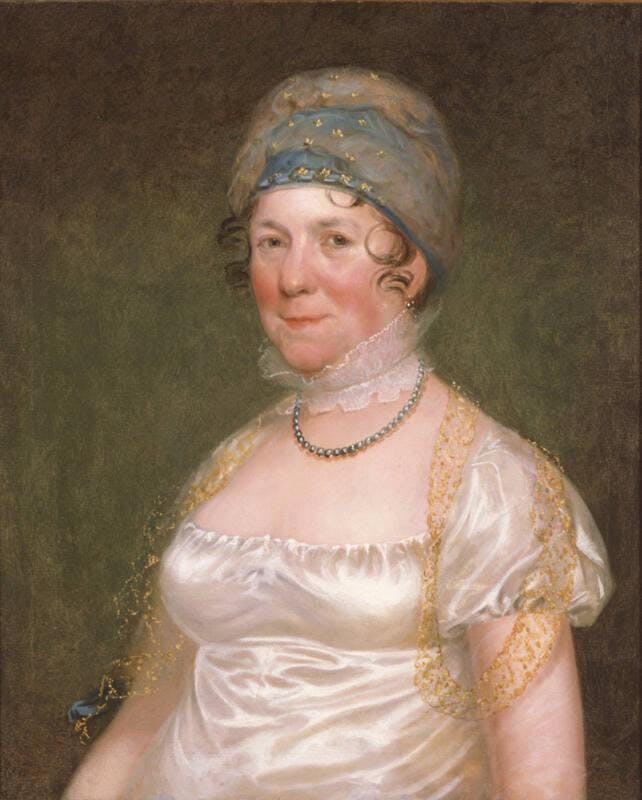 Empress Josephine, the trend-setter of her time, was known for her large collection of shawls and for her grief when her husband Napoleon put a ban on textile imports from India and England in order to revive the French silk industry. Kashmiri shawls would later be known as Paisley shawls after the Scottish town where imitations of the original Indian product were made. This colonial luxury item (check out this episode of the Dressed podcast to learn more about the colonial history of the Kashmiri shawl) served two main purposes. First, it provided warmth during a time when most dresses had short sleeves for both daytime and evening and were made from light-weight muslin. Second, shawls were a perfect match for the period's obsession with drapery, inspired by Greek statues. A taste for drapery can be seen in the portraits of both Mrs. Daniel Tompkins and the ever-so-stylish First Lady Dolley Madison with her sheer fischu or shawl made from netting or lace.
The fantastical world of Bridgerton is most notably missing one important must-have accessory which no respectable women dared to be seen without: a hat. Hats and bonnets were not only respectable, but also protected the skin from the sun. Pale skin was a paramount status symbol for women, another element which is absent from the color-blind Bridgerton fantasy. Dolley Madison's portrait features a hat reminiscent of turban or a headwrap, another example of the influence of Indian textiles and styles on European as well as American taste. 
But what's under your dress?
The new empire silhouette that emerged in the early 1880s streamlined the female body in accordance with the Neoclassical obsession of the period and showcased beautifully draped muslin and later silk textiles. But perhaps an even greater change was concealed under the dress. For the first time in centuries, women did not wear a rigid corset. Rather, they now wore stays, a much shorter, bra-like boned garment that pushed the breast in and upward. Remember the steamy scene between Anthony and Kate in episode 7? There, we catch a glimpse of what stays actually looked like, although a real-life Kate would have probably worn it not against her skin but on top of a linen chemise. The shorter and straighter cut of the stays complemented the very high empire waistline and the new square neckline. This period was also a brief moment in women's history in which skin, and lots of it, was socially acceptable. While the Bridgerton women wear deep necklines during the day, in reality most women wore a more covered-up version, as the one seen in Mrs. Philip Jeremiah Schuyler portrait, or wore a fischu tucked into the neckline, like Mrs. Robert Bolton, 1818. By the 1830s, all of that would change: Necklines filled up, sleeves became longer and more voluminous, skirts grew wider with the help of layers of petticoats, and it would not be until the 1920s that women's legs would once again see the light of day.
Written by Keren Ben-Horin, Andrew W. Mellon Predoctoral Fellow in Women's History and Public History, Center for Women's History.