The Center for Women's History's new exhibition, Title IX: Activism On and Off the Field, commemorates the 50th anniversary of Title IX of the Education Amendments Act of 1972 that fundamentally reshaped American society by prohibiting discrimination based on sex in education. On view through September 4 in our Joyce B. Cowin Women's History Gallery, the exhibition immerses visitors in the spaces shaped by the groundbreaking legislation and reveals the crucial work of activists and lawmakers in demanding that their institutions live up to the law's promises. After five decades of complex, contentious debates over the law's implementation and enforcement, there are innumerable stories that we could tell of how Title IX has shaped students' lives. In this post, the curators reveal some of our favorite objects, each illuminating a fascinating facet of how Title IX has shifted the cultural landscape and impacted gender equity in education.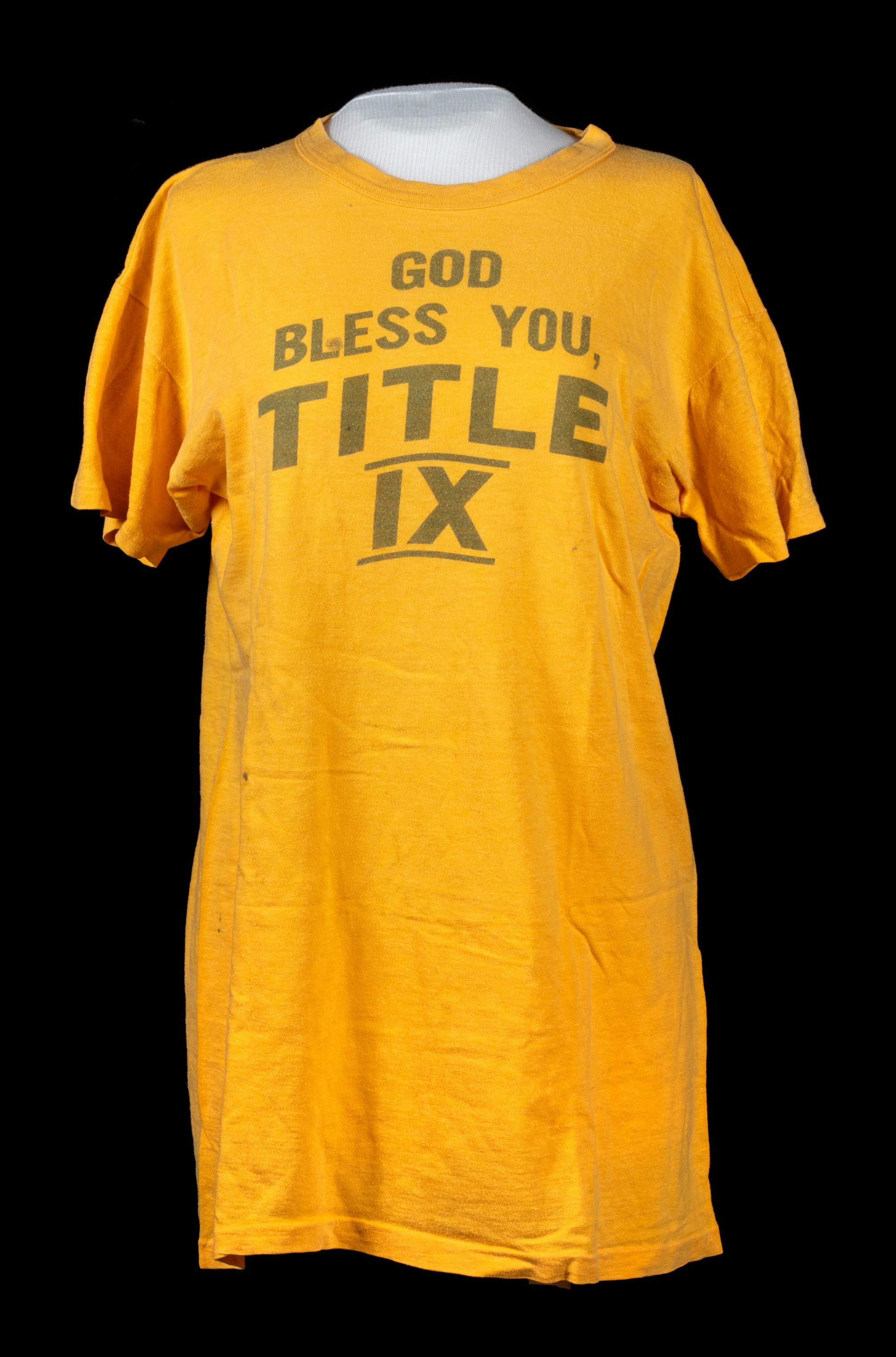 "God Bless You, Title IX" T-Shirt
Building on the grassroots movements for women's liberation in the 1960s, women turned to Congress to address the rampant sex discrimination they experienced in education. After the passage of Title IX, however, the work was just beginning: networks of women within and beyond Congress participated in the negotiations over the law's implementation. Advocates battled college athletic directors and the NCAA, who hoped to exempt "revenue-producing sports" such as men's football from Title IX's provisions. As the Department of Health, Education, and Welfare (HEW) hashed out Title IX regulations across multiple presidential administrations, a new organization, the National Coalition for Women and Girls in Education, sprung out of this activist foment to coordinate strategy and link new DC-based groups to longstanding national organizations with broad memberships across the country. This small but powerful coalition harnessed the power of "mythical marching millions," as one of our interviewees put it, against powerful threats to women's equal access to education. They wore T-shirts like these and distributed printed materials and pin-back buttons (also on display) while lobbying on Capitol Hill. (Anna Danziger Halperin, Mellon Foundation Postdoctoral Fellow in Women's History and Public History.)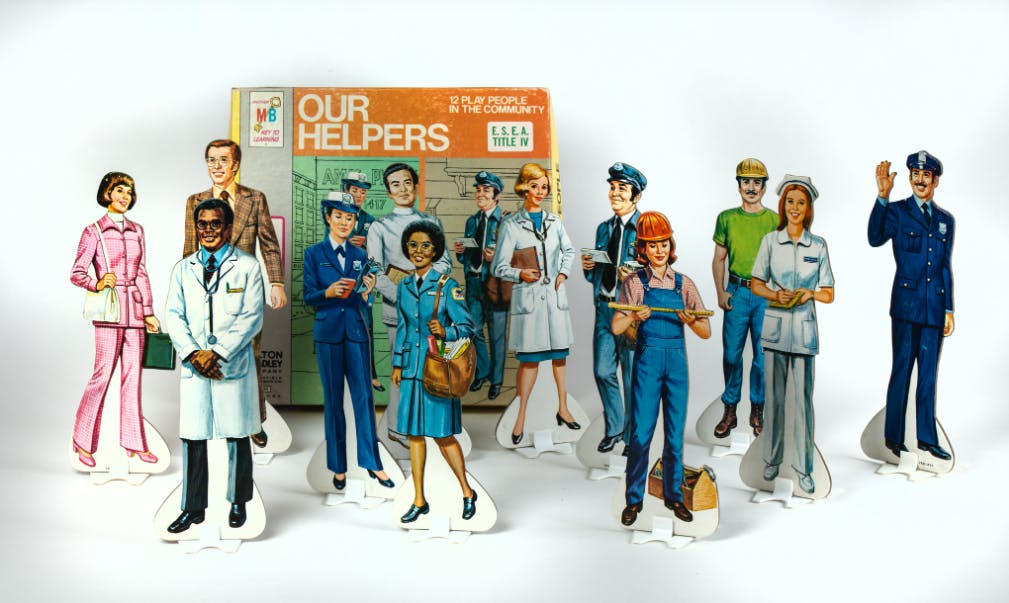 "Our Helpers" Children's Toy
Classrooms have always been a place where children learn about gender, both explicitly and implicitly. Beginning in the 1970s and continuing today, educators and activists have turned their attention to not only opening doors for women and girls, but to countering sex stereotypes in educational curricula and classroom materials. These Milton Bradley figures depicting men and women holding the same jobs illustrate efforts to replace outdated classroom materials that reinforced traditional gender norms. Unlike reading materials where mothers only worked within the home, and math textbooks with girls being bad at math, materials like these encouraged all students to imagine future professional opportunities without being restricted by gender. (Laura Mogulescu, Curator of Women's History Collections.)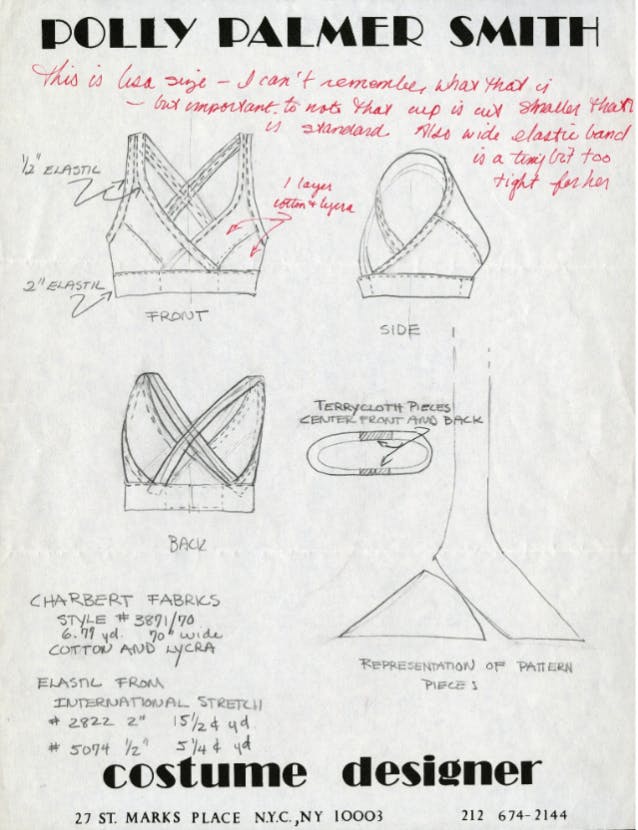 Sketch for the Original Sports Bra
The immediate success of Title IX is evident not just in the expansion of women's sports in schools and universities, but also in the emergence of a market for non-competitive sports and fitness programs. One of the fascinating objects in the exhibition is the sketch of the first sports bra, made from two men's jockstraps sewn together. This object clearly illustrates where women's sports and fitness were in 1977 when this design was created: Women had to improvise and make do.
During the 1970s, jogging became increasingly popular, but women quickly discovered that their everyday brassieres didn't provide enough support. Costume designers Lisa Lindahl, Hinda Schreiber, and Polly Parker Smith, sketched up the "jogbra," and the modern sports bra was born. Today women's sports apparel is a multi-billion-dollar market, thanks in large part to the huge cultural shift enabled by Title IX. (Keren Ben-Horin, Mellon Foundation Predoctoral Fellow in Women's History and Public History.)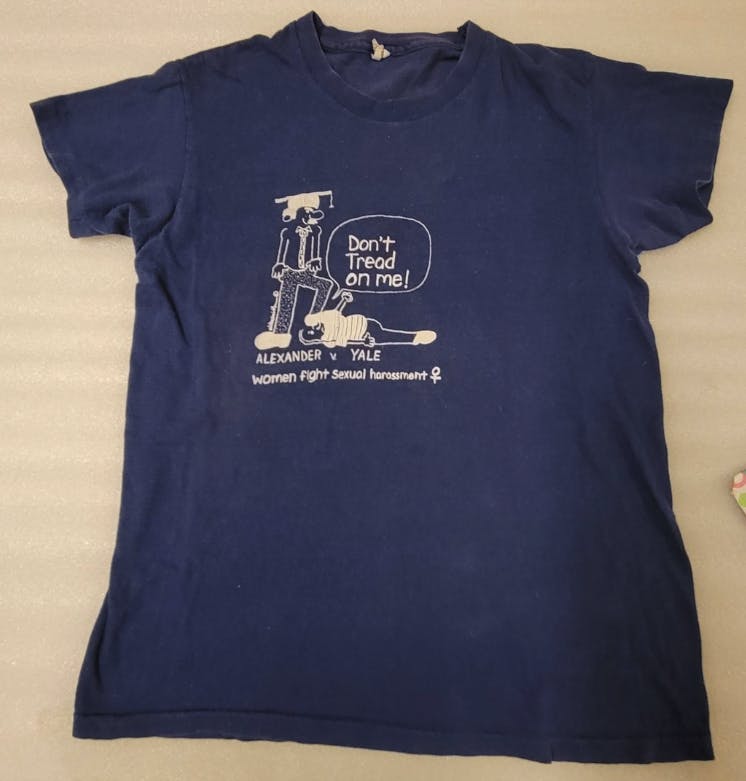 "Don't Tread On Me" T-Shirt
Designed by a Yale undergraduate, these T-shirts were sold by student activists to raise money for Alexander v. Yale, the first case to argue that sexual harassment in education was sex discrimination, and therefore covered under Title IX. Prior to the suit, Yale had no grievance procedure to report sexual harassment and assault by professors, and refused to implement one. Five undergraduates decided to sue. The concept of sexual harassment as a systemic problem rather than an individual one had just begun to spread beyond women's groups and feminist legal circles. Although a judge ultimately ruled against the plaintiffs, Alexander v. Yale laid the groundwork for future sexual harassment cases under Title IX. Today, grievance procedures are now commonplace at colleges and universities. (Laura Mogulescu, Curator of Women's History Collections.)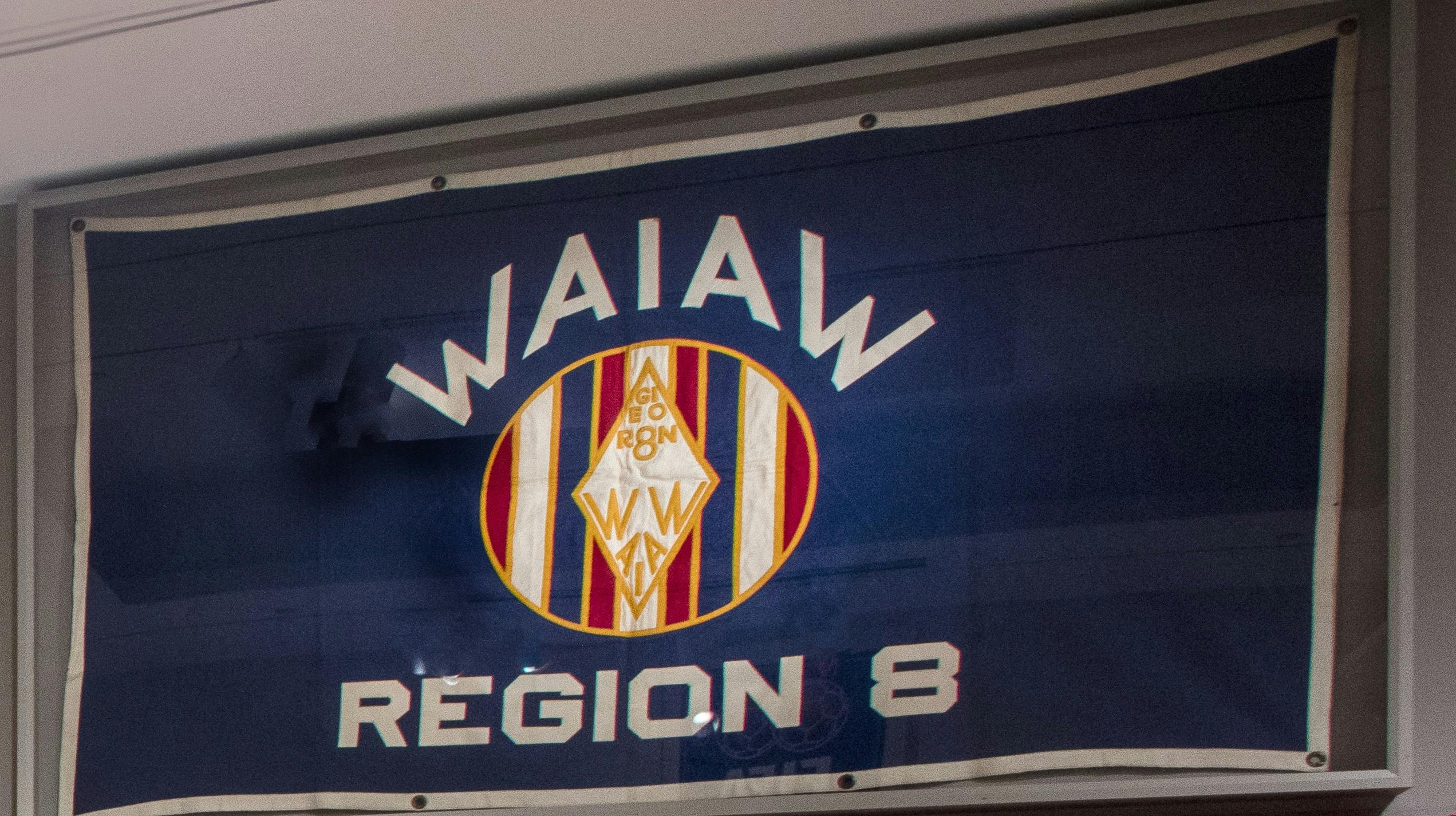 WAIAW Flag
The Association of Intercollegiate Athletics for Women (AIAW) was founded in 1971 to oversee sports for female student-athletes nationwide. It was a counter-part in many ways to the NCAA (National Collegiate Athletic Association), which did not hold women's sports tournaments during this period. While the AIAW supported the sex-segregated model for sports reaffirmed under Title IX, the NCAA initially opposed the legislation. It lobbied in Congress and filed a lawsuit to try to prevent Title IX's application to "revenue producing sports" such as football. After losing its lawsuit, the NCAA announced its own tournaments for Division I women's sports for the 1981-1982 school year. That year, the AIAW sued the NCAA and lost. The organization had to shut down after colleges moved their teams to the NCAA.
This has had mixed results for women employed as coaches. Under the AIAW, women served as athletic directors and head coaches, often unpaid. Once the NCAA created women's tournaments, colleges and universities offered paid coaching positions, attracting men, and pushing out women who ran the programs. Women found greater success in the 1990s after Title IX plaintiffs could sue for damages but have struggled to break the glass ceiling above assistant coach, a barrier that remains today. (Allison Robinson, Mellon Foundation Postdoctoral Fellow in Women's History and Public History.)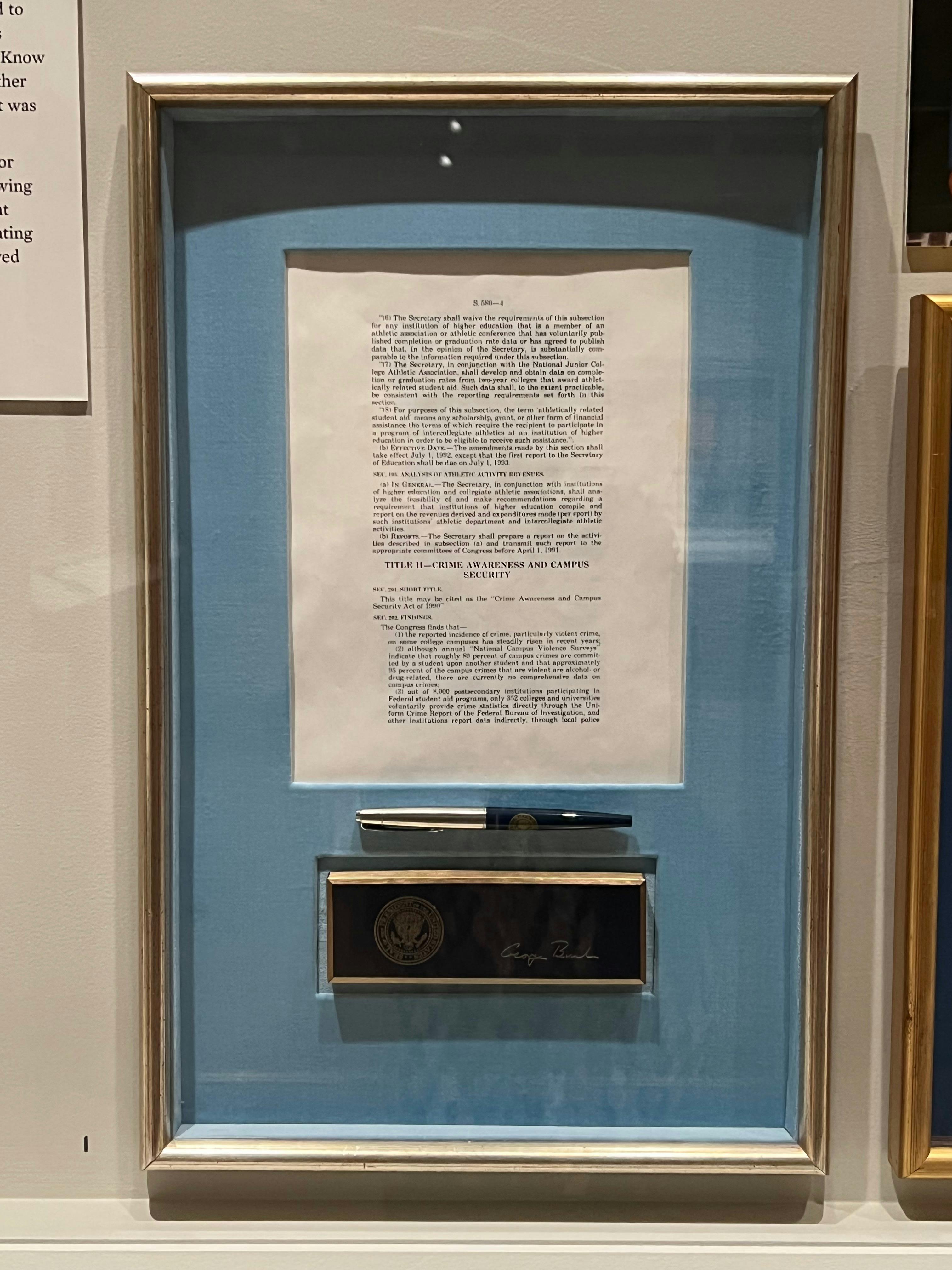 Signed Copy of the Clery Act
Title IX established guidelines to fight sex discrimination in education. But campuses could be a dangerous place for young women. Colleges and universities were not required to publicly report violent crime statistics. This changed with the 1990 Students Right to Know and Campus Safety Act, which works together with Title IX to protect college students. In 1998, the law was renamed the Jeanne Clery Act, after the young woman who inspired its passage. Her story, on one hand, reflects the success of Title IX: Passionate about sports, school, and her community, Jeanne benefited from expanded athletic opportunities, and she and her mother were avid tennis players who regularly competed together in local tournaments. But there is a dark, tragic end to her story: She was murdered on the campus of Lehigh University in 1986 by a fellow student. Jeanne's parents, Howard and Connie Clery, spent years advocating with state legislatures and Congress for improved campus safety. The Clerys' work to pass legislation and support campus safety measures on individual campuses set new standards nationwide. (Allison Robinson, Mellon Foundation Postdoctoral Fellow in Women's History and Public History.)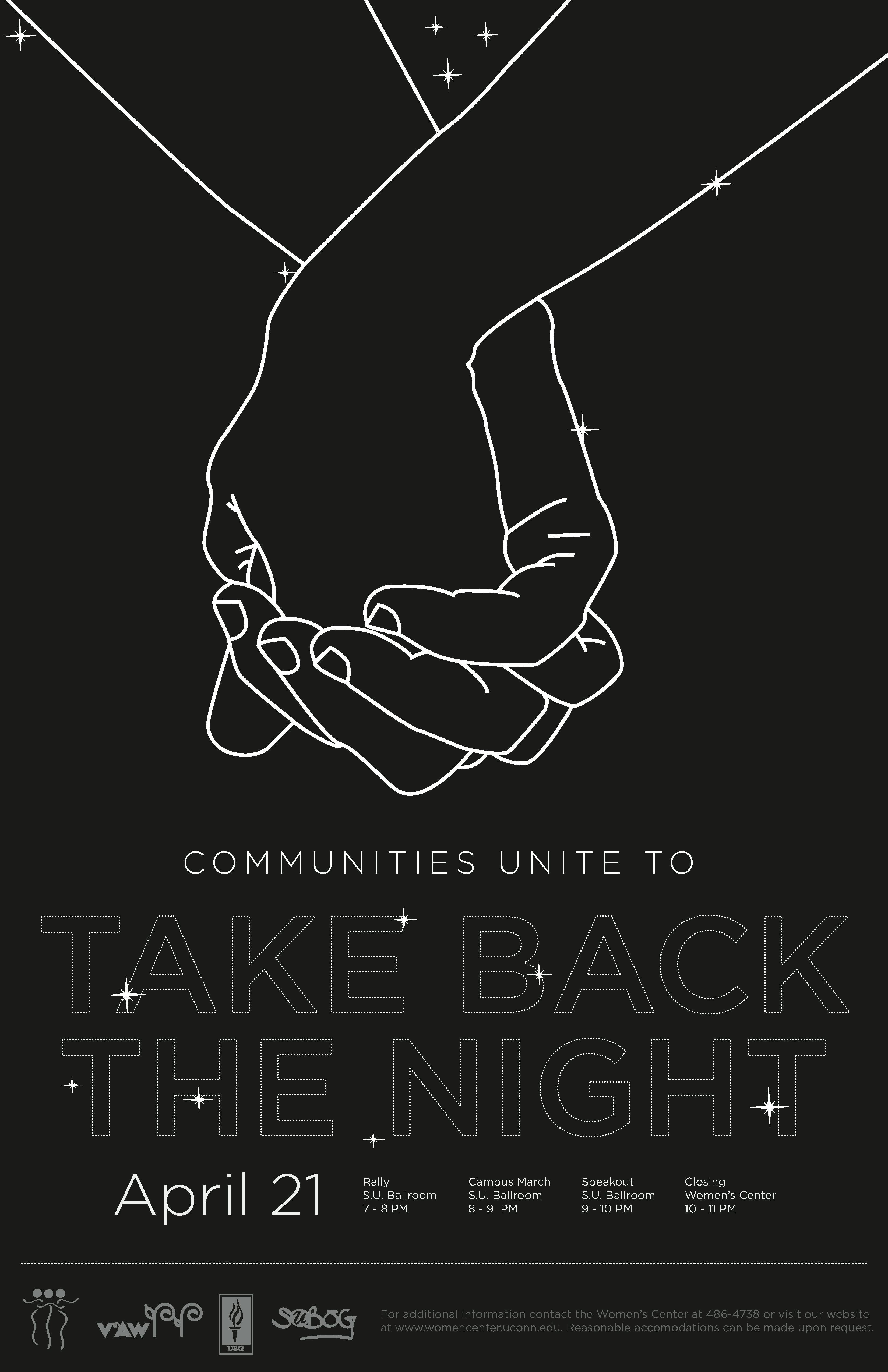 "Take Back the Night" Flyer
Sexual harassment was not formally recognized as a form of sex discrimination impacting access to education under Title IX until the Obama administration. In the decades between Title IX's passage in 1972 and this shift in Washington in 2011, student activists argued that unsafe campuses and the ever present danger of sexual assault negatively impacted their education. They fought for resources for survivors and improved safety measures from their institutions using a variety of methods to achieve these goals, including Take Back the Night protests. These gatherings in the United States exploded in popularity on campuses starting in the early 1980s, becoming a cornerstone of college activism that continues today. Student activists openly discussed their experiences of sexual violence at school and reclaimed universities as safe spaces through marches and rallies. The Women's Center at the University of Connecticut produced this flyer for its march in 2010. (Allison Robinson, Mellon Foundation Postdoctoral Fellow in Women's History and Public History.)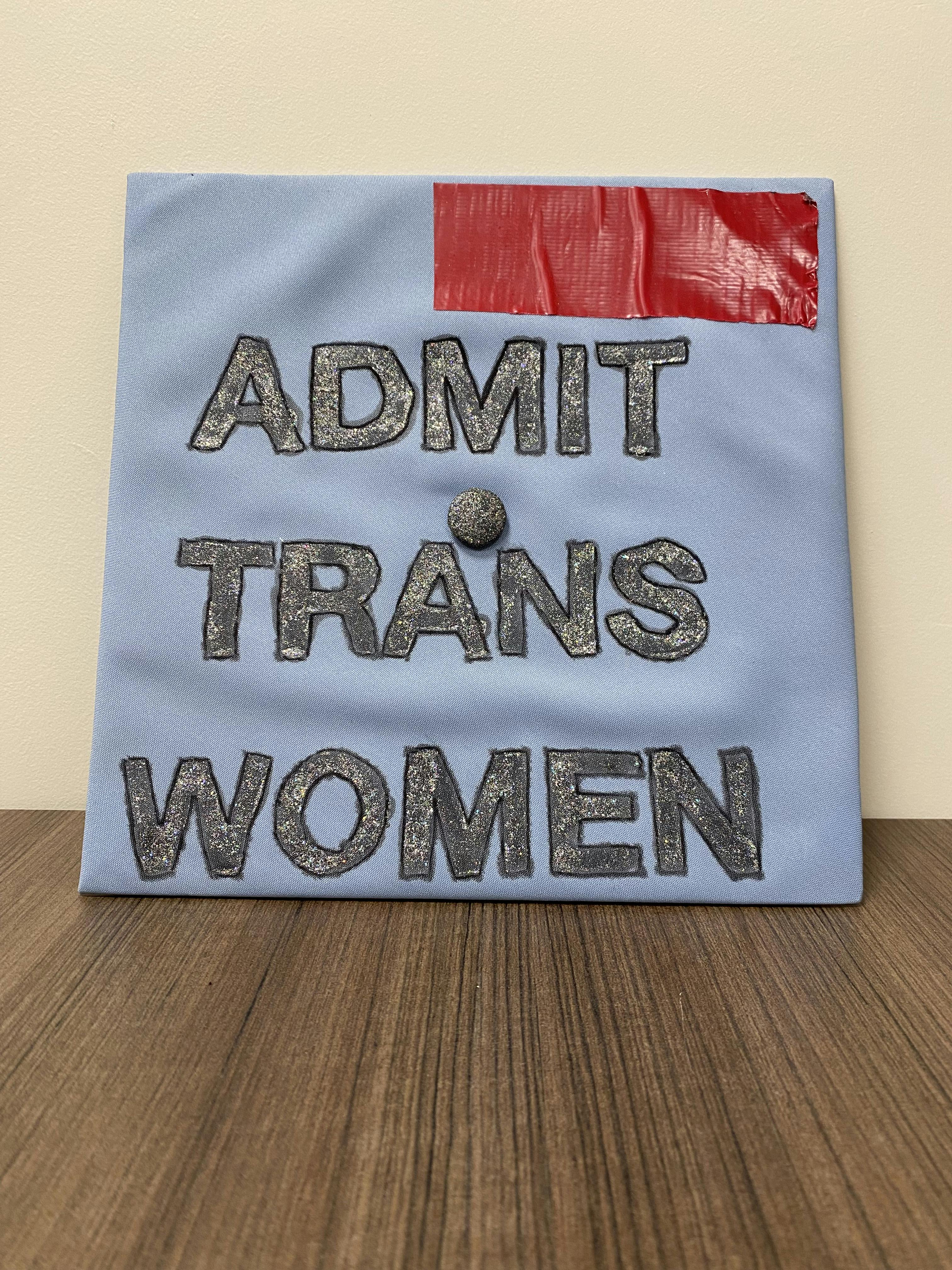 Barnard College Mortarboard
In a post-Title IX landscape, with long-closed doors of higher education finally opened to women, one question that animated debates about women and higher education since the 1970s has been: What is the continuing purpose of a women's college? In the 1970s, some activists argued that women's colleges perpetuated sex stereotyping and limited women's employment opportunities. Others insisted on the necessity of these spaces to foster women's liberation and empowerment. Our exhibition includes a case study of one such institution, our neighbor to the north of New-York Historical: Barnard College. Students, faculty, and staff at Barnard have continuously fought over the past 50 years to maintain the college's separate identity within the larger entity of Columbia University—even after Columbia College began admitting women in 1983. In recent years, students pushed to remake Barnard's identity anew to include transgender students in admissions and student services on campus. We include this graduation cap, belonging to Caleb LoSchiavo, to illustrate this campaign. Caleb graduated just before Barnard became the last of the remaining Seven Sisters to admit trans women. The red tape on the cap signifies solidarity with a different student activist campaign that was also related to Title IX, "No Red Tape," which protested university procedures around sexual harassment and assault. That one object illustrates how students approached Title IX from multiple angles, seeking to make their campus more equitable and inclusive across different issues, demonstrates how debates around how to interpret and implement Title IX continue to rage into the present. (Anna Danziger Halperin, Mellon Foundation Postdoctoral Fellow in Women's History and Public History.)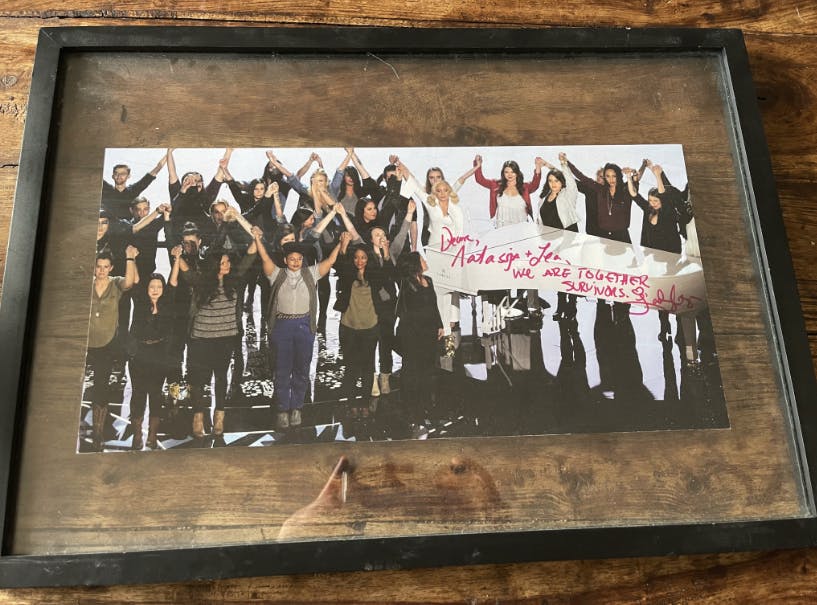 Signed Photograph of Lady Gaga and Sexual Assault Survivors from the 2016 Academy Awards
Lady Gaga performed the song "Til It Happens to You," the theme song from the documentary The Hunting Ground, at the 2016 Academy Awards. The film brought national attention to the enormity of campus sexual assault. Among the 50 sexual assault survivors that joined Lady Gaga onstage were Leander Roth and Stas Schmiedt, two activist–survivors who we interviewed in the research stage of our exhibition, and who lent us this photograph signed by Lady Gaga. 
In 2013, Roth and Schmiedt were among a group of Dartmouth College LGBTQ+ and students of color who filed a Clery complaint as part of their protests against campus-wide gender and racial discrimination. While Title IX procedures covered gender violence, they believed that the Clery Act would allow them to tackle issues of racial bias as well. However, disillusioned by the limits of both Title IX and the Clery Act, Roth and Schmiedt turned to education and formed a new organization, Spring Up. Their educational model seeks to prevent sexual violence by replacing the punitive process that often accompanies Title IX, with an approach that centers on community and classroom collaboration. (Keren Ben-Horin, Mellon Foundation Predoctoral Fellow in Women's History and Public History.)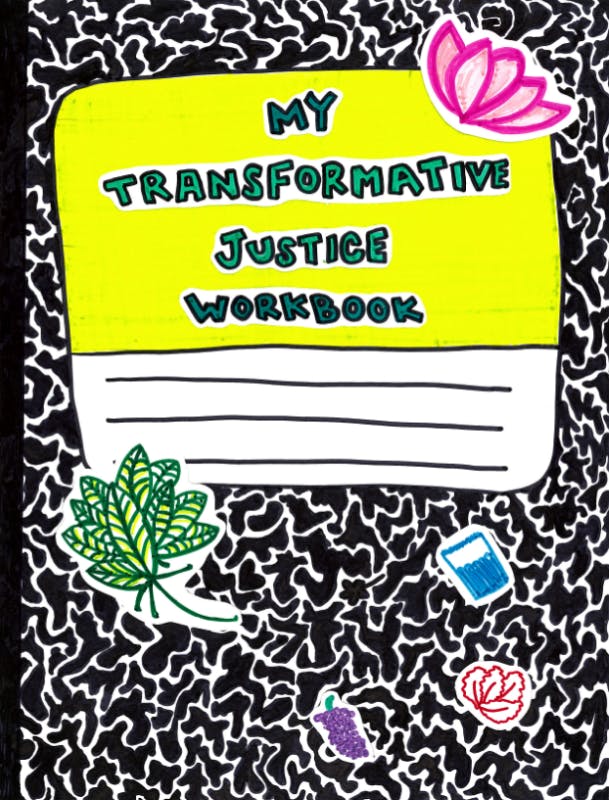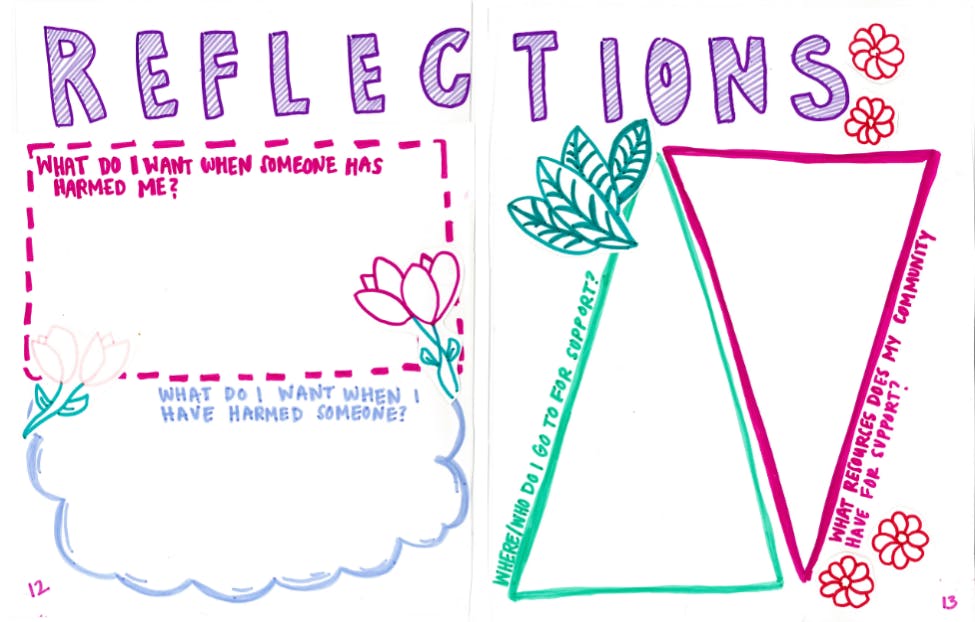 Transformative Justice Workbook
In recent years, college students have increasingly turned to transformative justice-based programming in order to combat gender discrimination, contending that Title IX procedures disproportionately center on disciplinary action that can be re-traumatizing for survivors of sexual assault. Transformative justice provides alternative forums where participants can share their experiences of harm and reach a consensus on how to repair and prevent its recurrence. 
This workbook provides one example of transformative justice in action. Through a series of exercises, readers are introduced to key concepts and can begin practicing transformative justice principles for themselves. Like most transformative justice programs, this workbook guides its participants to recognize harmful patterns of behavior and develop new ways of navigating relationships.  Our exhibit features a few panels from the workbook, but the entire project is freely available in digitized form here. (Karintha Lowe, Mellon Foundation Predoctoral Fellow in Women's History and Public History.)