Scientific and technological innovations open up new ways of looking at and examining our cultural heritage. From identifying the animal species of parchment to revealing the text of unopened letters, collaborations between museum professionals and scientists often result in exciting discoveries. Here at the New-York Historical Society, we have been working with a team of scientists at Yale University including Dr. Andrew Miranker and Dr. Gamze Gürsoy from Yale's department of Molecular Biophysics and Biochemistry and Dr. Anikó Bezur and Monica Grasty from Yale University. Together, we worked to develop protocols for a biological survey of our collections. The underlying question of this study was whether it is possible to collect meaningful biological data from museum and library items for DNA analysis and whether this information can provide new insights into our objects and the people that interacted with them. This project was generously supported by the Richard Lounsbery Foundation.
Genomics, as applied to the study of cultural heritage, has the potential to provide detailed insight into the background of an object. For example, genomic analysis can identify the material an object is made of in cases where protein analysis cannot narrow down to a particular species. Additionally, we can learn whether objects of the same material are derived from one or multiple individuals, as in the case of parchment fragments. However, extracting DNA from museum objects comes with a host of challenges. First, the sampling method must be non-invasive, meaning it will not alter or damage the artifact being sampled. Second, the biological material comprising the object or on its surface is old and fragmentary, making analysis difficult. And third, museum spaces are not sterile environments, making contamination from handling or conservation treatment unavoidable. Nevertheless, our hope was that objects with "protected spaces"—such as a garment, a glove, a closed diary, or a licked envelope—would provide enough uncontaminated material to yield results.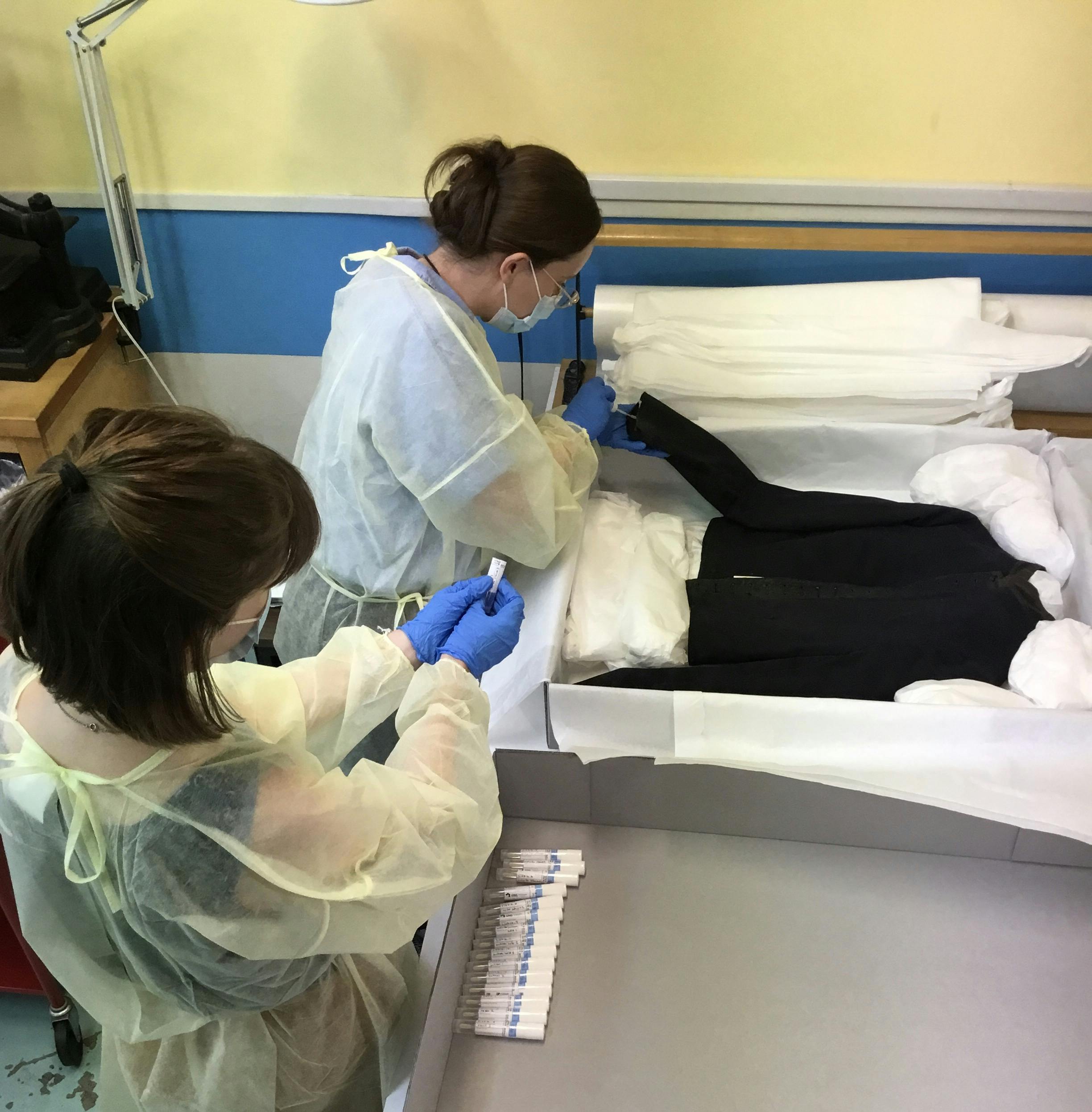 After trying several sampling methods on mock-ups and non-collection items, we settled on a simple swabbing method to conduct our research. This technique involves gently rubbing a dry forensic-grade swab on the surface of an artifact. To limit contamination from our own DNA or from the conservation lab, we cleaned our work area and tools with hydrogen peroxide, wore clean lab coats, gloves, facemasks, and face shields. 
The objects we chose for this pilot study, representative of our museum and library collections, are made of a variety of materials. We sampled envelopes addressed by Walt Whitman; a diary and make-up kit of prominent New York stage actress Gertrude Kellogg; a textile sampler created by Rosena Disery at the New York African Free School; the wooden leg of Gouverneur Morris, a writer of the U.S. Constitution; William Henry Shelton's Civil War jacket; and a pair of gloves belonging to Confederate General Stonewall Jackson.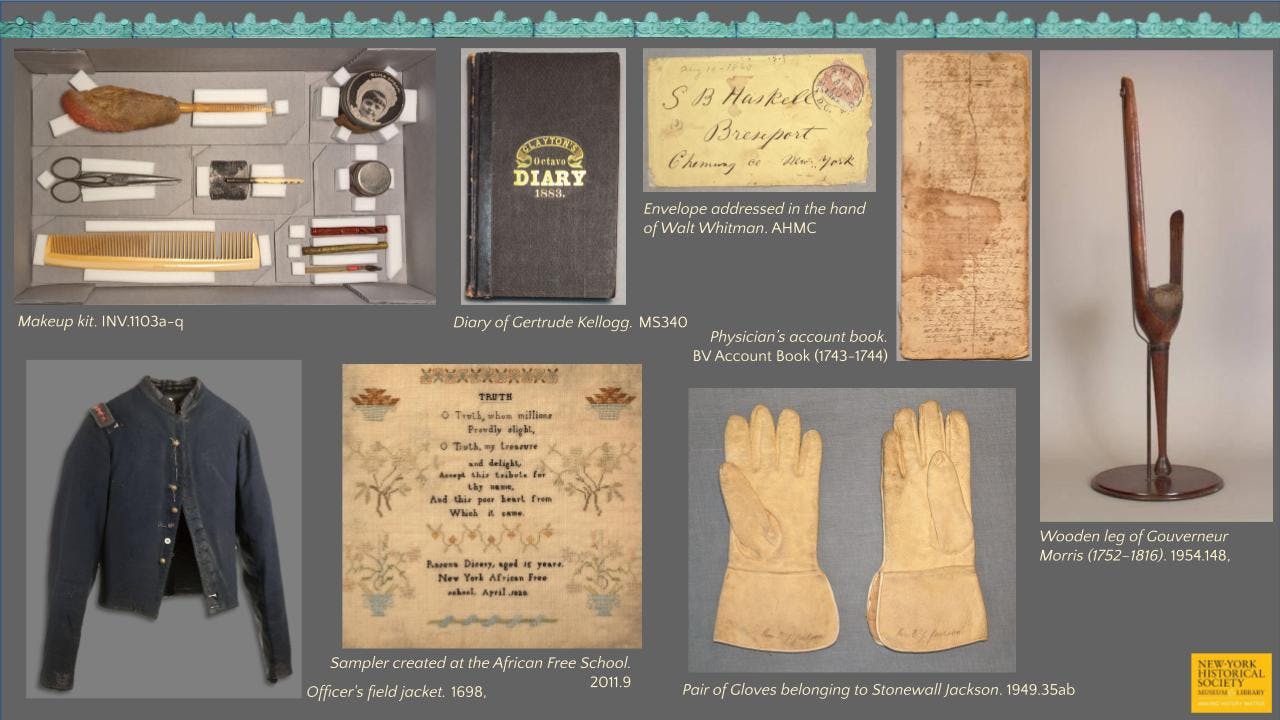 Once conservators finish swabbing the objects, they place the swabs in a tube containing silica gel to prevent moisture from allowing microbes to grow and further degrade the historical, damaged DNA. The swabs then undergo DNA extraction, where a technician adds a soapy solution and a protein-dissolving enzyme that will free the DNA from cell membranes and maintain the integrity of the DNA molecule. After incubating at a lukewarm temperature (56°C) overnight, the soapy solution now contains the DNA from the swab. The solution containing the DNA next undergoes DNA binding and purification, where a special "binding buffer" is added to the DNA solution. This buffer allows only the smallest fragments of DNA—like the damaged bits of historical DNA that we're interested in—to bind to tiny glass-covered magnets, which are about the size of a dust particle (4 µm).
After the DNA is purified, it is prepared for sequencing. This procedure is called a library preparation, where synthetic fragments of DNA that the sequencing instrument can recognize are appended to either end of each historical DNA fragment. Our DNA extraction and library preparation methods are borrowed from the field of ancient DNA research, in which scientists recover highly degraded DNA from precious objects.
The DNA sequences are then compared to databases of known species. Given the number of potential organisms that could match the DNA fragments, this task is truly daunting. However, focusing on the most prevalent matches, coupled with historical and material research, helps us to identify specific organisms with some confidence. For example, historical records describing Stonewall Jackson's diet helped us to verify the authenticity of DNA fragments that mapped to stone fruits, and medical records from the Civil War era helped to identify a species of wild lettuce that was used to create a pain-relieving salve.
As we continue our collaboration with the Yale University scientists, we hope to unlock further details about our collection objects. The results of our pilot study are encouraging and have generated excitement about the potential of DNA sampling. At the same time, we realize the need to consider the ethical implications of DNA extraction—including the privacy rights of living descendants of the historical figures we are studying.
Written by Monica Grasty, Yale University, and Katarzyna Vargas, New-York Historical Society