Join us via Zoom every Tuesday and Friday at 3:30 pm for Little New-Yorkers. Check our Family Programs calendar for additional information.
We are celebrating Indigenous People's Day by reading We Are Water Protectors. When author Carole Lindstrom heard about the Standing Rock Sioux Tribe's stand against the 2016 building of the Dakota Access Pipeline, a pipeline that threatened to poison their water, she wanted to use her voice to write a story that would honor the Standing Rock Water Protectors, as well as the long and continuing history of Indigenous-led Earth-stewardship. In Carole Lindstrom's own Turtle Mountain Band of Ojibwe culture, women are the protectors of water, and illustrator Michaela Goade, a member of the Tlingit and Haida Indian Tribes, was taught from a young age that water gives life. In We Are Water Protectors, one young girl calls her people and their allies to protect her village's, and the Earth's, water. "We fight for those who cannot fight for themselves," the girl says, "the winged ones, the crawling ones [...] The Earth." A new exhibit at the New-York Historical Society, The Salem Witch Trials: Reckoning and Reclaiming, also asks viewers to think about ways to help those who are being treated unjustly. 
Today you can take the Earth Steward and Water Protector Pledge and make your own Water Protector button to wear! Follow along with the steps below, and don't forget to join us live at 3:30 pm every Tuesday via Zoom and Friday in-person for our Little New-Yorkers Hello Song, silly games and dances, a craft, and, of course, our read aloud!
Supplies
Something to color with: markers, crayons, pencils, pastels, or a cool combo!
Scissors
Tape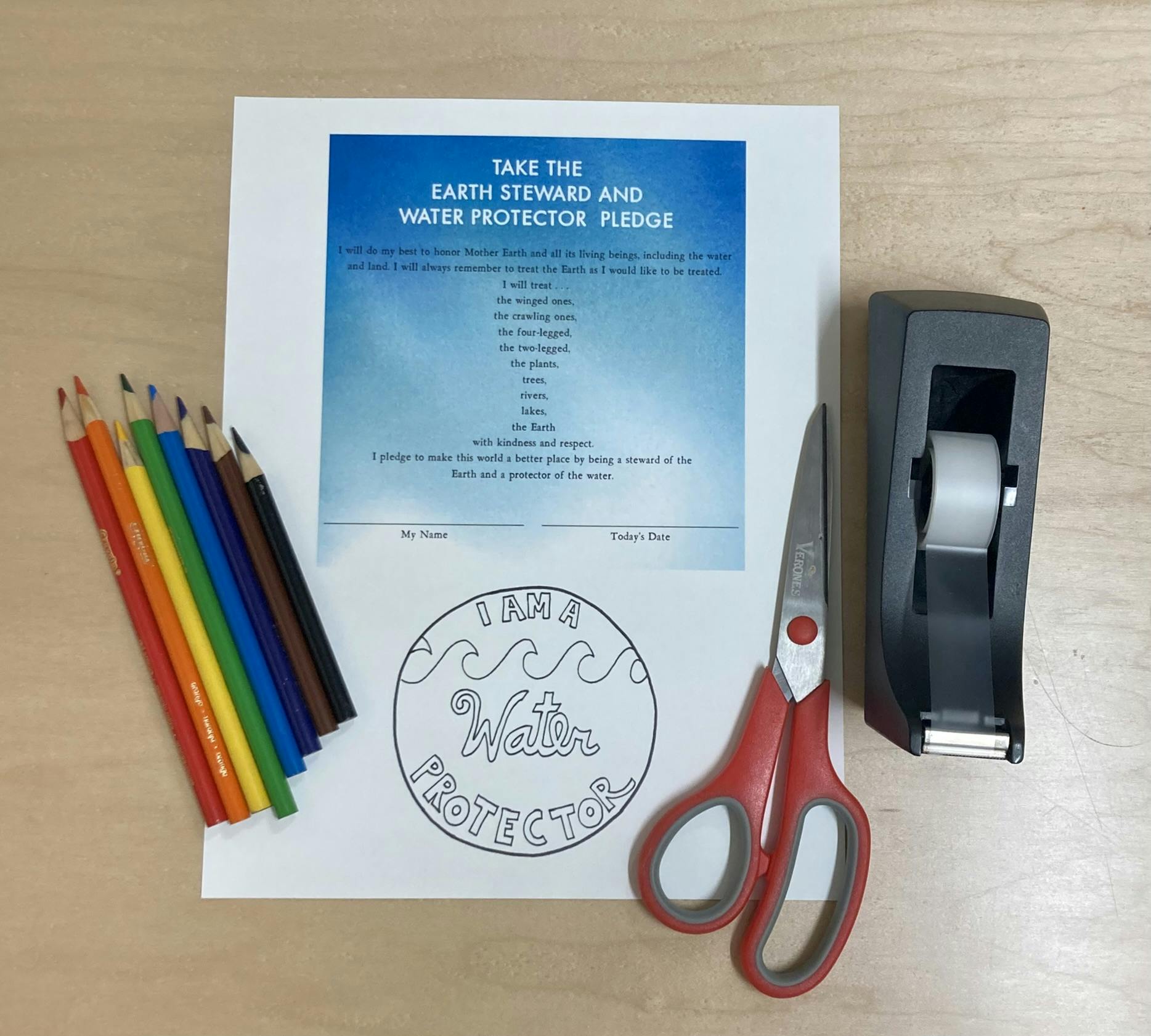 * A note on supplies: If you don't have exactly the supplies listed, improvise! These projects are designed to be versatile, so feel free to use whatever materials and tools you have at home. And if your final product looks different than what you see here, that's wonderful!
STEP 1: Take the Earth Steward and Water Protector Pledge!
Start by reading the Earth Steward and Water Protector Pledge with your grown-up. A pledge is like a promise, and this pledge asks us to "treat the Earth as [you] would like to be treated." How can you do that? Think about ways that you can show kindness and respect to winged ones, four-legged friends, plants, and water. Can you plant a bee's favorite flower in your garden or window box? Can you volunteer at an animal shelter? Here are some more ideas for taking care of the Earth and its water: Water Protectors Tips.
Now it's time to take the pledge! Write your name and date on the lines at the bottom. Author Carole Lindstrom says, miigwech, the Ojibwe word for thank you.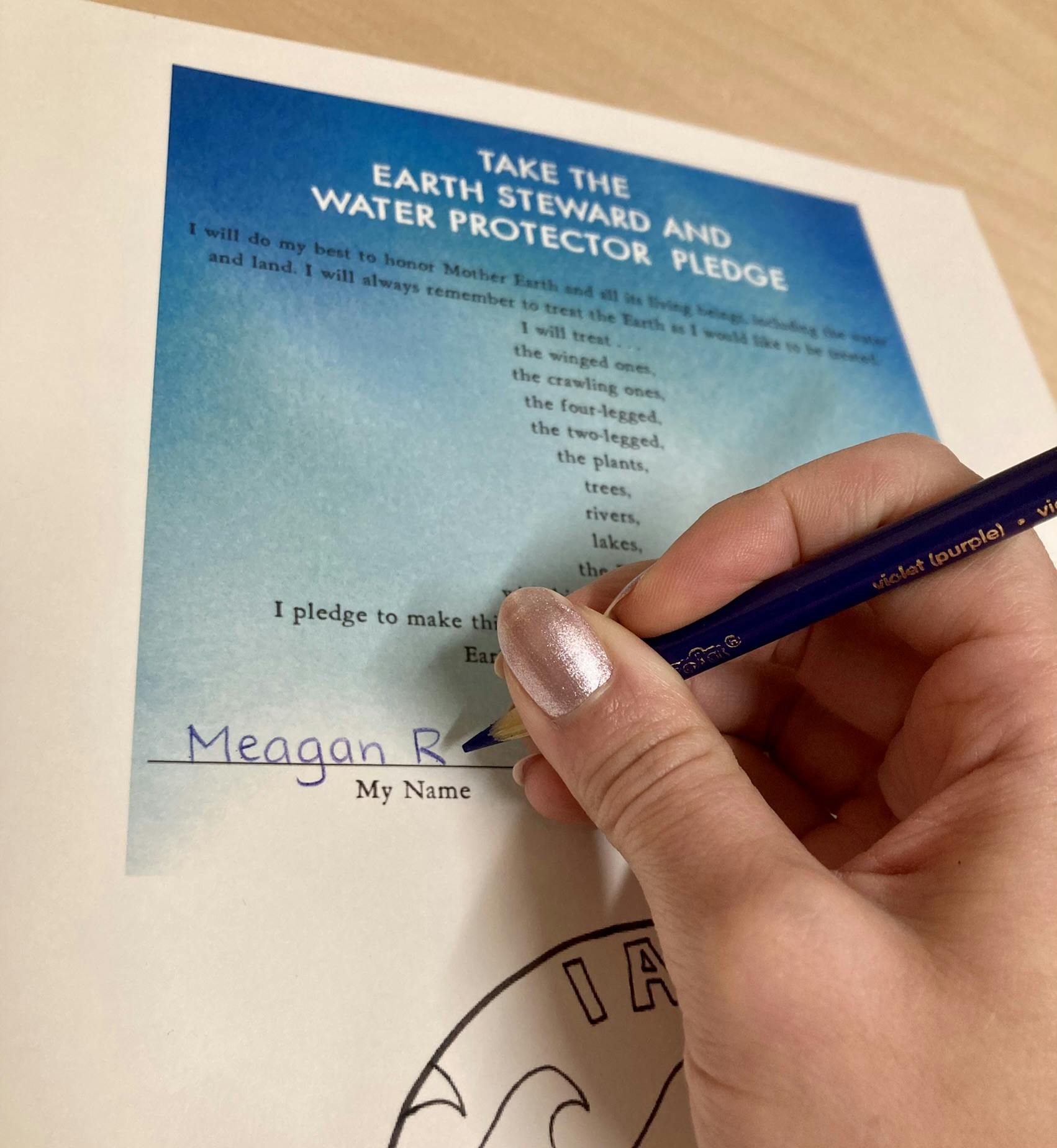 STEP 2: Coloring
Now it's time to make your own Water Protector button! What colors will you use? Are you inspired by the blues and turquoises of Michaela Goade's illustrations?
STEP 3: Cutting
Find your scissors and carefully cut out your button and your pledge so you can share your commitment to caring for the Earth.
STEP 4: Tape
Next, add a tape loop to the back of your button so you can wear it!
STEP 5: Support Our Planet!
Now that you are a Water Protector, share what that means with your family and friends! How can you work together to care for the Earth? The Sioux-led movement at Standing Rock in North Dakota brought together over 500 Indigenous Nations, as well as countless allies from other people groups, to protect clean water. It takes all of us to care for our planet.
Thank you for pledging to be an Earth Steward and Water Protector, Little New-Yorkers! And thanks for following along! We hope to see you, and your creations, at Little New-Yorkers soon! We'd love to see your artwork—join the conversation and tag us on social media @nyhistory!