This post is one in a quarterly series in which the New-York Historical Society highlights the collections for which detailed finding aids were published over the prior several months. All collections receive at least a summary description in our catalog, Bobcat. But many collections have such depth or are simply so large or complex that a fuller roadmap to them is warranted. Follow this link to the full text search engine for all New-York Historical finding aids.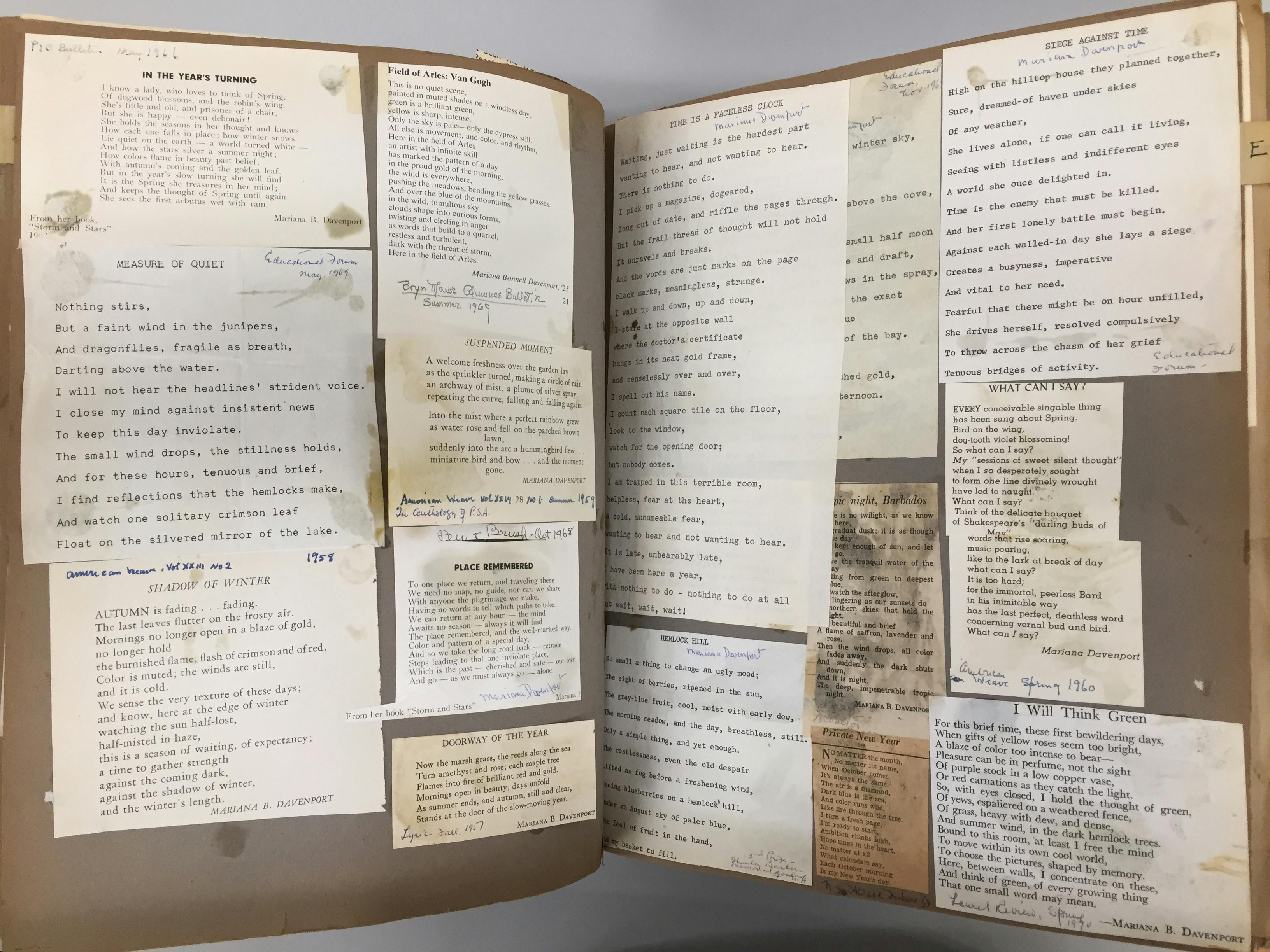 Manuscript Collections
Brooke Astor Papers, 1884-2007 (MS 3157), 8 linear feet
The collection includes personal papers and photographs of the socialite and philanthropist Brooke Astor, as well as some documents concerning her parents, other family members, and her husbands, especially Vincent Astor. Correspondence and photographs, mostly from the 1970s-2002, reflect Brooke Astor's social and philanthropic connections. The collection also holds some of Astor's diaries and other writings, and family photographs, including an album dating from Brooke's father's tenure as a U.S. Marine in Hawaii and in China. Her father was John Henry Russell Jr., and his time as American High Commissioner in Haiti in the 1920s is represented by a set of letters written by Brooke's mother from Port-au-Prince.
Thomas F. De Voe Scrapbooks, 1720-1890 (MS 3193), 19 linear feet
The collection includes 80 scrapbooks compiled by Thomas F. De Voe (1811-1892). The bulk of the content is newspaper clippings, though some other printed forms are present as well. Some material ranges as early as circa 1720 and as late as 1890, but the bulk ranges from the 1850s into the 1880s. 34 of the volumes concern New York City history (e.g., politics, built environment, cultural institutions, events, etc.); 15 volumes relate to obituaries or other profiles of notable people; 8 relate to the Civil War and other military matters; 7 concern markets; and the remaining 16 volumes are on various topics.
John Hone Scrapbooks, 1887-1911 (MS 302), 6 linear feet
The collection includes seven scrapbooks compiled by New York stockbroker John Hone (1844-1915), which date from about 1887 to about 1911. Generally, the volumes hold documents related to the various political, social and historical clubs Hone was a member of; the business and cultural institutions he was an officer or trustee of; his travels to Europe, Asia and South America, and summer vacations in Bar Harbor, Maine; and his various interests in political, financial, military, theatre/music, and family connections. The Manhattan Club (a Democratic Party political club), Sons of the Revolution, and Veteran Corps of Artillery are among the well-represented organizations. Hone's family connections with August Belmont, Commodore Matthew C. Perry, and others are also represented in the scrapbooks which hold invitation cards, dinner menus (often handwritten), event programs, pictorial works, clippings, some light correspondence, a few original photographs, and some Confederate currency.
Jo-Ann Mayer Mullen Papers, 1977-2005 (MS 3209), 1 linear feet
This collection documents the professional work and activism of Jo-Ann Mayer Mullen, a feminist and social worker who primarily operated in Schenectady, New York. Mullen was involved with an array of political advocacy groups at the local and state level including the Schenectady Human Rights Commission's Committee on Violence Against Women, the New York State Coalition Against Domestic Violence, and the Schenectady League of Women Voters. She was also a Services Coordinator for the Schenectady YWCA. Besides Mullen's working papers, this collection contains clippings, creative writing, and correspondence that contextualize Mullen's work and position within the politics of the feminist movement of the 1970s-1990s.
New York Society of the New Church Records, 1852-2003 (MS 3210), 7 linear feet
The records document the organizational structure and activities of this Swedenborgian congregation primarily located on 35th Street and Lexington Avenue in Manhattan. The documents include minutes, reports, correspondence, and printed matter regarding the functions and administration of the New York Society of the New Church. These records reveal the ongoing evolution and struggle of the Society and the 35th Street building to endure economic and societal challenges.
Henry O'Reilly Papers (Additional series), 1819-1880 (MS 464), 7 linear feet
An additional 51 volumes of documents, primarily print matter compiled by Henry O'Reilly, were added to that collection. These volumes had not been previously inventoried, and they complement other O'Reilly material. 36 of the volumes relate to telegraphs, including their history, legal matters, telegraph companies, and technical aspects. Several volumes of "Western Mementoes" hold print matter concerning, mostly, western New York. One of the Western Mementoes volumes concerns Iowa, specially the Demoine Navigation Company and Des Moines River. One volume holds documents related to the Clinton League and railroad and canal developments in New York State; three relate to agriculture; one concerns various Civil War-related matters, including the death of O'Reilly's son; one concerns the press in western New York; and one relates to political anti-Masonry. 
Richard C. Patterson, Jr. Scrapbooks, 1879-1966 (MS 3184), 9 linear feet
The collection holds twelve oversize scrapbooks, eleven of which consist almost entirely of clippings and which trace the career of Richard C. Patterson, Jr. from his appointment as New York City's Commissioner of Correction in 1927; through his positions in private industry and government in the 1930s-1940s and as ambassador to Yugoslavia, Guatemala, and Switzerland in the 1940s-1950s; and to his tenure as New York's Commissioner of Public Events in the 1950s-1966. The first scrapbook of the collection holds a broader range of documents, principally from Patterson's early life and career, including documents related to his position as head of the administrative office for the American Commission to Negotiate Peace in France after World War I.
Blanche Potter Photograph Albums & Travel Journals, 1904-1939 (MS 3100), 2 linear feet
The collection holds 26 photograph albums and 4 journals compiled and written by philanthropist Blanche Potter (1864-1942). All relate to Potter's travels in the United States and abroad from 1904-1939, taken with her life companion, Louise Christie, and/or other women. The photograph albums hold about 3,400 sepia-toned, well-captioned snapshots of historic sites, local peoples, travel accommodations, landscapes, and various points of interest in Europe, northern Africa, India, the Caribbean, Central and South America, Canada, and the United States. Potter, Christie and their traveling companions are in many of the photos. Potter's travel journals provide rich context and additional photographs for four of the trips. Some of the photograph albums include local New York State travel and scenes from visits to Potter and her sibling's country homes in Ossining.
Elizabeth Barlow Rogers Papers, 1906-2020 (MS 3206), 19 linear feet + 16.5 gigabytes
This collection documents the life and work of Elizabeth Barlow Rogers, a landscape architect and parks advocate. Rogers published several monographs on New York environmental history and landscape design, as well as multiple articles on urban renewal and history. She was appointed Central Park Administrator by Mayor Ed Koch in 1979 and was a founding member and president of the Central Park Conservancy in 1980; she retired from both positions in 1995. Her papers illustrate the breadth of her career and public life as well as the physical, economic, and social changes that New York underwent since the 1970s. Materials include manuscripts, published materials, photos and audiovisual material, and correspondence.
Scovill Manufacturing Company Invoice Books, 1875-1881 (MS 549), 8.5 linear feet
The collection holds six volumes of invoices representing bills paid by Scovill Manufacturing Company. These bills appear to relate specifically to Scovill's New York City store, which was a significant source of photographic supplies (plates, cases, chemicals, etc.). There are over 12,000 invoices in the volumes, covering the period 1875-1877 and 1879-1881.
Collection of Scrapbooks and Clippings, 1709-1974 (MS 3158), 100 linear feet
The collection consists of approximately 200 volumes of scrapbooks acquired from various sources over the course of New-York Historical's history. The collection was formed in 2019-22 as an administrative convenience for the inventorying and description of a miscellany of previously uncataloged scrapbooks. Clippings from newspapers and other sources perhaps predominate the collection, but there are many other document forms as well, including photographs, some letters, programs, tickets, and other ephemera. The scrapbooks in this collection range from those that have a focus on an individual's social, leisure or work/career life to those that document, mostly through clippings, various historical or other matters of apparent interest to the scrapbook's compiler, such as the Civil War, politics, boxing, and more.
Women Poets of New York Scrapbook, 1950s-1988 (bulk 1960s-1970s) (MS 3208), 1 linear feet
One scrapbook holding poems composed by members of the Women Poets of New York organization (disbanded 1987) from the 1950s to the 1970s. 43 members are represented in the scrapbook, such as Evelyn Ames, Laura Benét, Henrietta Cholmeley-Jones, Rhina P. Espaillat, and Frances Minturn Howard.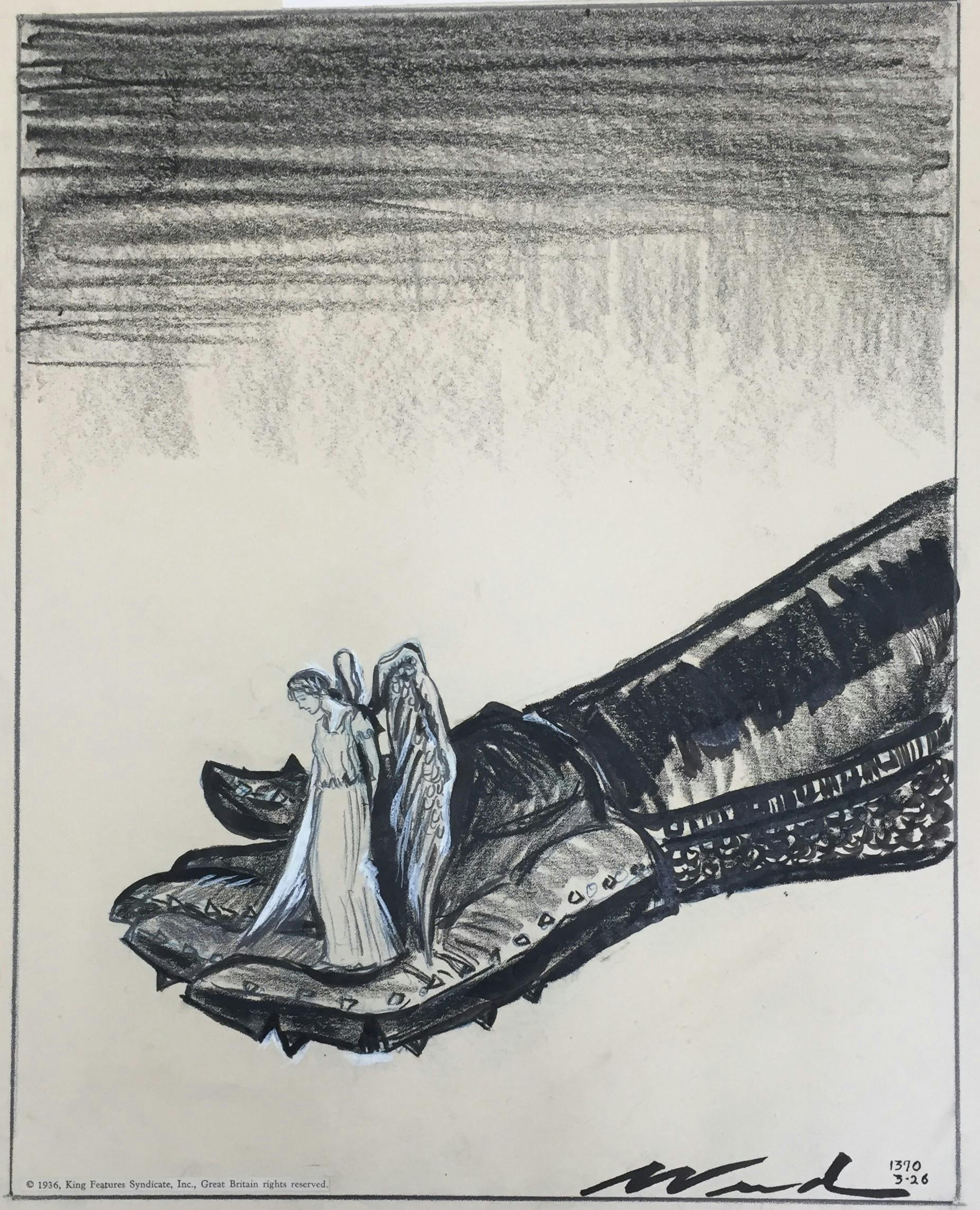 Photographs and Graphic Materials
Bayonne Bridge Historic Preservation Documentation, 2007-2021 (PR 443), .21 linear feet + 2.9 gigabytes
The collection includes documentation prepared by the Port Authority for the purpose of complying with certain legal requirements related to the alteration of a historic structure. This includes images of documents from the 1920s-1930s concerning the original construction of the Bayonne Bridge and other material about the history of the bridge. The bulk of the collection is in digital form and is available online.
Collection of Caricatures and Cartoons, 1643, 1756-1943, 1977 (PR 10), 56 linear feet
The collection holds about 1,600 prints (mostly engravings and lithographs) and pen and ink drawings of humorous and caustic pictorial commentary on political events and social customs. The caricatures range from the late colonial period in British North America to the mid-twentieth century, with just a few outliers from before and after that range. The bulk of the collection, with about 1,300 items, dates from the Jacksonian era beginning in 1828 to the close of the 19th century. Political matters are especially well-represented in the collection, especially in connection with the electoral politics of presidential campaigns. Economic policies (e.g., banking, currency, financial speculation, tariff reform, growth of industrial power, etc.) are a major theme. African-Americans appear frequently in the images, either as principal subjects or in the background as a subtext to the often layered caricatures of the 19th century. Slavery, abolition and the perceived ability (or inability) of emancipated African-Americans to participate as equals in American society are common subjects in this regard. Other subjects that run through the collection are political corruption (especially in relation to Tammany), America's relation with the rest of the world, social issues, and America at war.
Dancers of the Northern Pueblos Collection, 1994, 2011 (PR 442), 2 linear feet
The collection holds two documents by photographer David Michael Kennedy. The principal document is Kennedy's portfolio of eight palladium prints, "Dancers of the Northern Pueblos." The second document is a promotional booklet written by Kennedy, circa 2011, for his two American Indian dance portfolios, titled "Dance Portfolios by David Michael Kennedy: Eight Northern Pueblos and the Lakota."
Bert Hansen Collection of Advertising Fans, early 20th century-2003 (PR 4380), 1.2 linear feet
The collection holds 114 advertising fans collected by historian and gay activist Bert Hansen. Represented in the collection are funeral homes (many of which are owned by African-Americans), drugstores, drug products, coal supply, retail stores, churches, printing services, and others. The fans are mostly undated but seem to range from the first half of the 20th century to the early 2000s. Most fans include religious, scenic, photographic, or other imagery. The later fans include public service messages and advocacy, as well as advertising.
Kill Van Kull Bridge Construction Photographs, 1929-1931 (PR 441), 1 linear feet
One photograph album depicting the 1929-1931 construction of the Bayonne Bridge, then referred to as the Kill Van Kull Bridge. The album holds 23 silver gelatin photographs. Most of the photos show the erection of the bridge's arches at various stages in 1930 and the bridge's piers; some are aerial views, most at eye level. A few photos from 1929 show the bottom of the cofferdam and later 1931 photos show the nearly completed bridge from various angles. Only a couple photos include the laborers; one depicts the workers positioning a steel panel during arch erection.
King Features Syndicate Cartoon Drawings and Proof Sheets, 1935-1936 (PR 446), 3 linear feet
The collection holds 12 original drawings of editorial cartoons by Kenneth Russell Chamberlain and by Clive R. Weed, and 50 proof sheets of newspaper comics, syndicated by King Features. Four of the comics are from Walt Disney Enterprises. The other 46 comics are from a variety of cartoonists, written and drawn for both Sunday and daily papers. They encompass both humorous and adventure/action types of comics.
Sapolsky and Slobodien Architecture Collection, 1948-1985 (PR 439), 13 linear feet
This collection consists of correspondence, blueprints, drawings, permit applications, and invoices from the commercial architectural firm of Sapolsky and Slobodien, based in New York City and active approximately 1948-1986. Principal projects documented in the collection are those executed for Home Life Insurance Company, Lazere Financial Corporation, the Longchamps restaurant chain, and Luchow's restaurant.
Larry Weimer is Head of Archival Processing at the Patricia D. Klingenstein Library at the New-York Historical Society.