"It doesn't matter if you're into tennis or not: You're into Serena." Billie Jean King, New York Times August 29, 2022
At the age of 17, Serena Williams won her first Grand Slam tournament after defeating Martina Hingis at the 1999 US Open finals in Flushing Meadows, Queens, clad in a yellow tennis dress designed for her by Puma, her sponsor at the time. The Center for Women's History displayed the signed dress, featuring white slimming side panels, black piping around the armholes and side seams, and the famous Puma logo, in our recent exhibition Title IX: Activism On and Off the Field. Born in 1981, Serena Williams and her sister Venus are part of a generation of "Title IX babies": Women who experienced the privileges of the landmark legislation, including more access to sport training programs and increased opportunities to play competitively. Though they enjoyed the fruits of Title IX, Serena and Venus had to overcome hurdles faced by few others in their sport. Today they are considered a path-blazing duo that changed not just the style of the game but who also broke down the notorious social and racial barriers of tennis. To celebrate the sisters' unparalleled careers and Serena's recently announced retirement, we are looking back at their path to becoming pathbreakers on and off the court.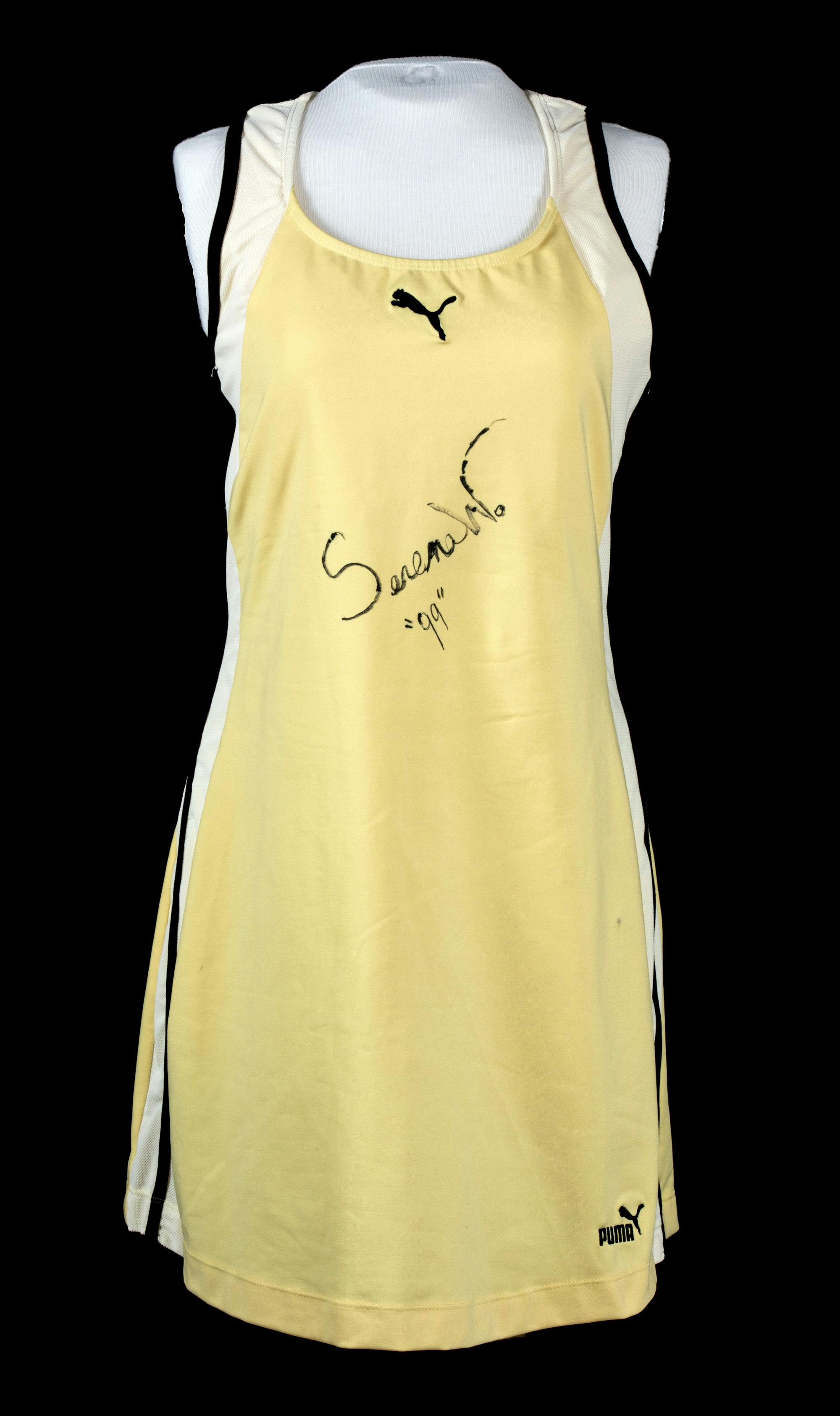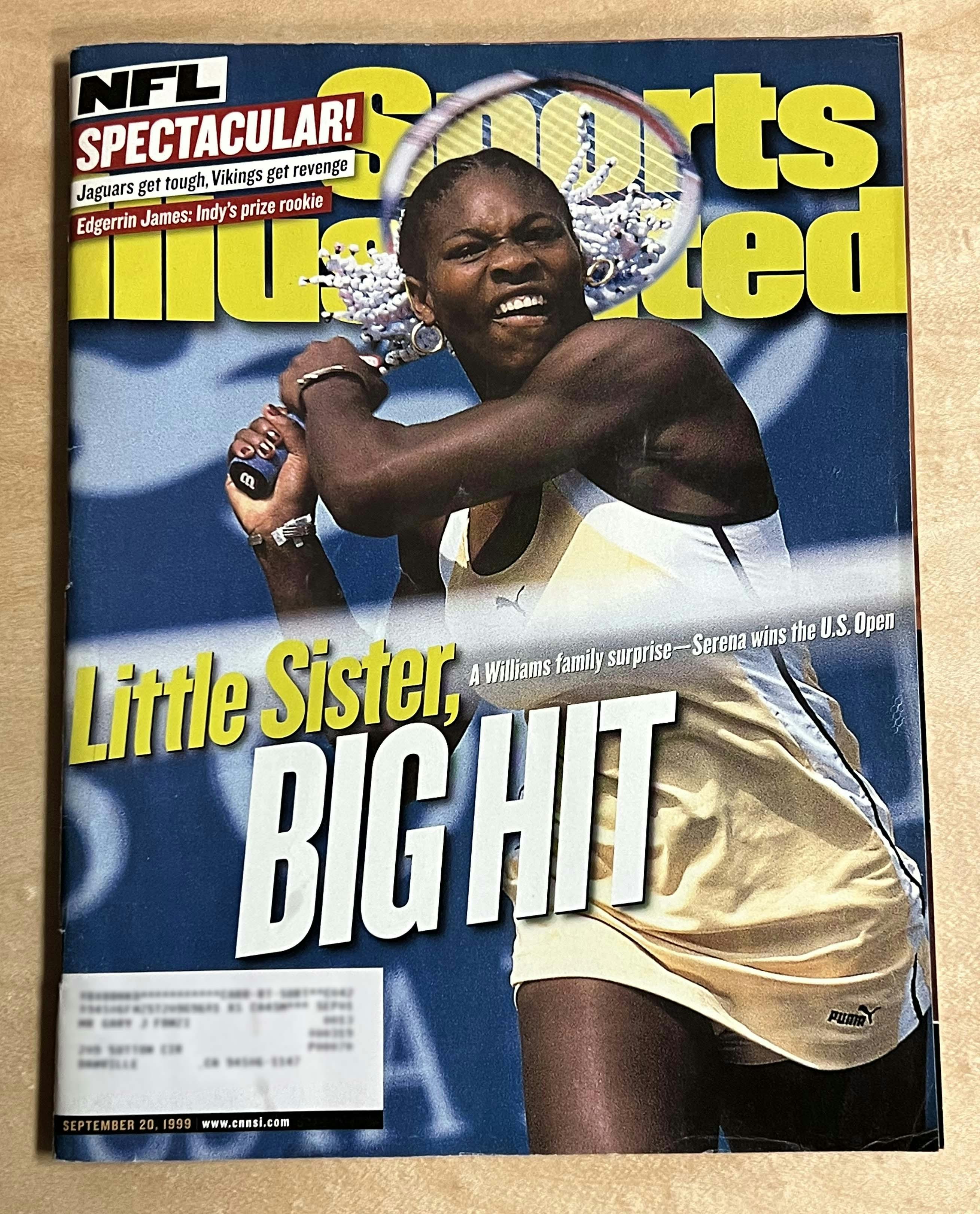 In an interview reflecting on his daughters' ascent to the top of their sport, Richard Williams revealed that he decided to train Venus and Serena in tennis after viewing a young woman win a televised tennis tournament. The $40,000 cash prize was more than his entire annual income. Richard recognized what he perceived to be a recipe for becoming successful professional athletes: physical strength, determination, and the ability to stay completely focused on a goal. Day in and day out, he trained the girls in Compton, California. At six and eight years old respectively, Serena and Venus traveled to nearby Long Beach to attend a day clinic with the tennis legend Billie Jean King. They immediately stood out among the 1,200 other kids as working-class Black girls in a predominantly middle-class white sport. But that wasn't the only reason. Reminiscing on the first time they met, King noted this past August that "you could tell then that they were special. It was more than their form. I saw that they really listened, they actively listened. You could tell they were really in it. They had amazing concentration. I had Serena serve that day, and I told her: Don't change a thing."
That forceful serve became her signature. Many commentators have since noted how Serena has influenced and transformed how athletes play tennis today. Yet, early in the sisters' careers, their powerful style was a source of criticism, often laced with racist undertones and scrutiny of their body, physic, and appearance. But, like the concentration the King saw in the young girls, Serena and Venus did not let any disparagement distract them from their game. Success soon followed. By 1999, Serena was already sponsored by Puma. The following year, Venus signed a record-breaking $40 million endorsement contract with Reebok, a deal celebrated as a sign of growing gender parity in professional sports.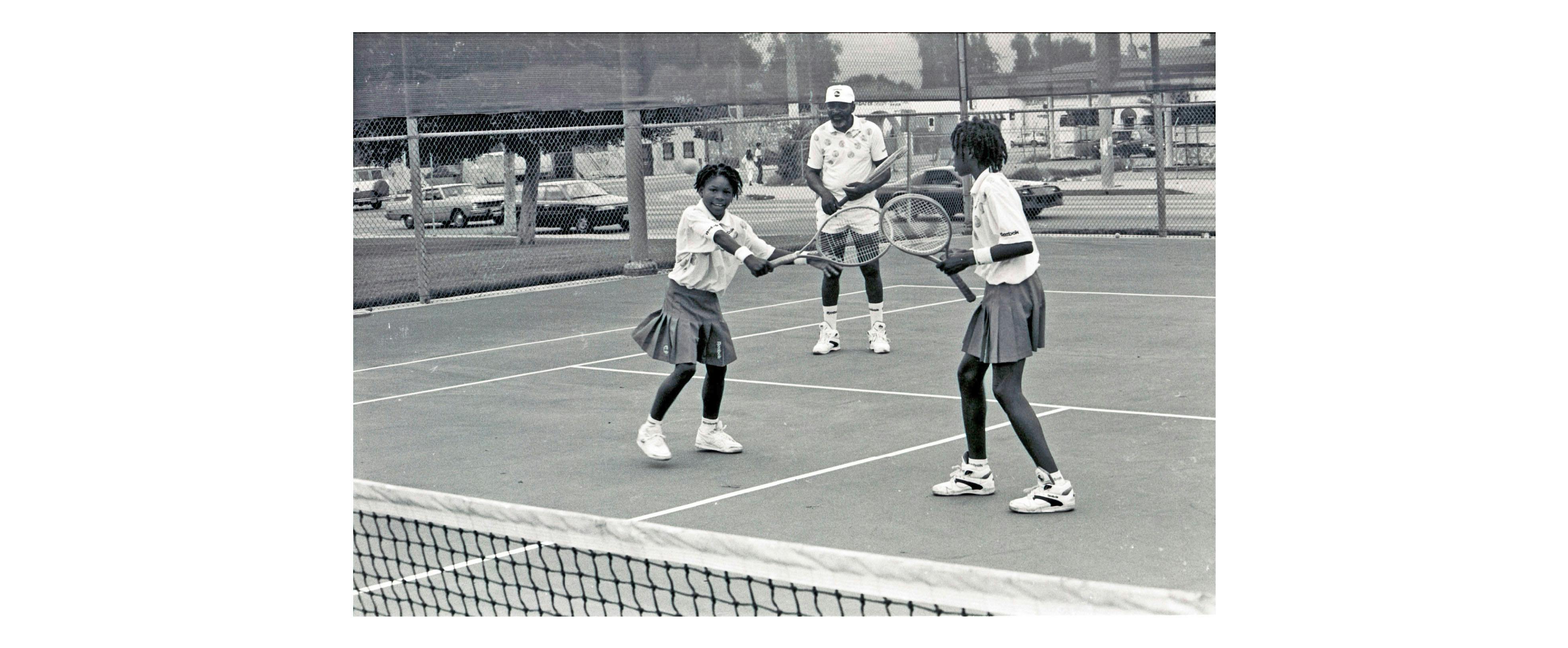 Without diminishing their athletic achievements, almost all commentators agree that the sisters' influence goes far beyond the tennis court. On an episode of the popular New York Times podcast The Daily, the Pulitzer Prize-winning culture critic Wesley Morris described Serena Williams as the GOAT: The Greatest of All Time. As he put it, "I think Serena Williams' effect on tennis and of people's perception of what the sport is and what it could be, especially for Black people, for non-white people, for poor people, for people all over the world who thought tennis was an elitist sport—we are years away from even beginning to understand this woman's significance." In her farewell to Serena, King agreed: "She's the GOAT… or at least the greatest of her time, since every generation gets better."   
While their father pushed the sisters to become superior athletes, their mother, Oracene Price, informed their other, equally important boundary-smashing talent: their standout appearance. Early on, when the sisters started competing as children without sponsors to dress them, Oracene made matching outfits for each game. Even in this arena, the family defied expectations and conventions. Although tennis had some Black players before, like the celebrated player Althea Gibson, the Williams sisters—styled by their mother—stepped onto the court boldly as themselves: not with the white tennis skirts typical of the sport, but with beaded braids and colorful dresses. In other words, rather than adhering to the sport's informal dress conventions—coded white and middle-class—the sisters were unapologetically Black.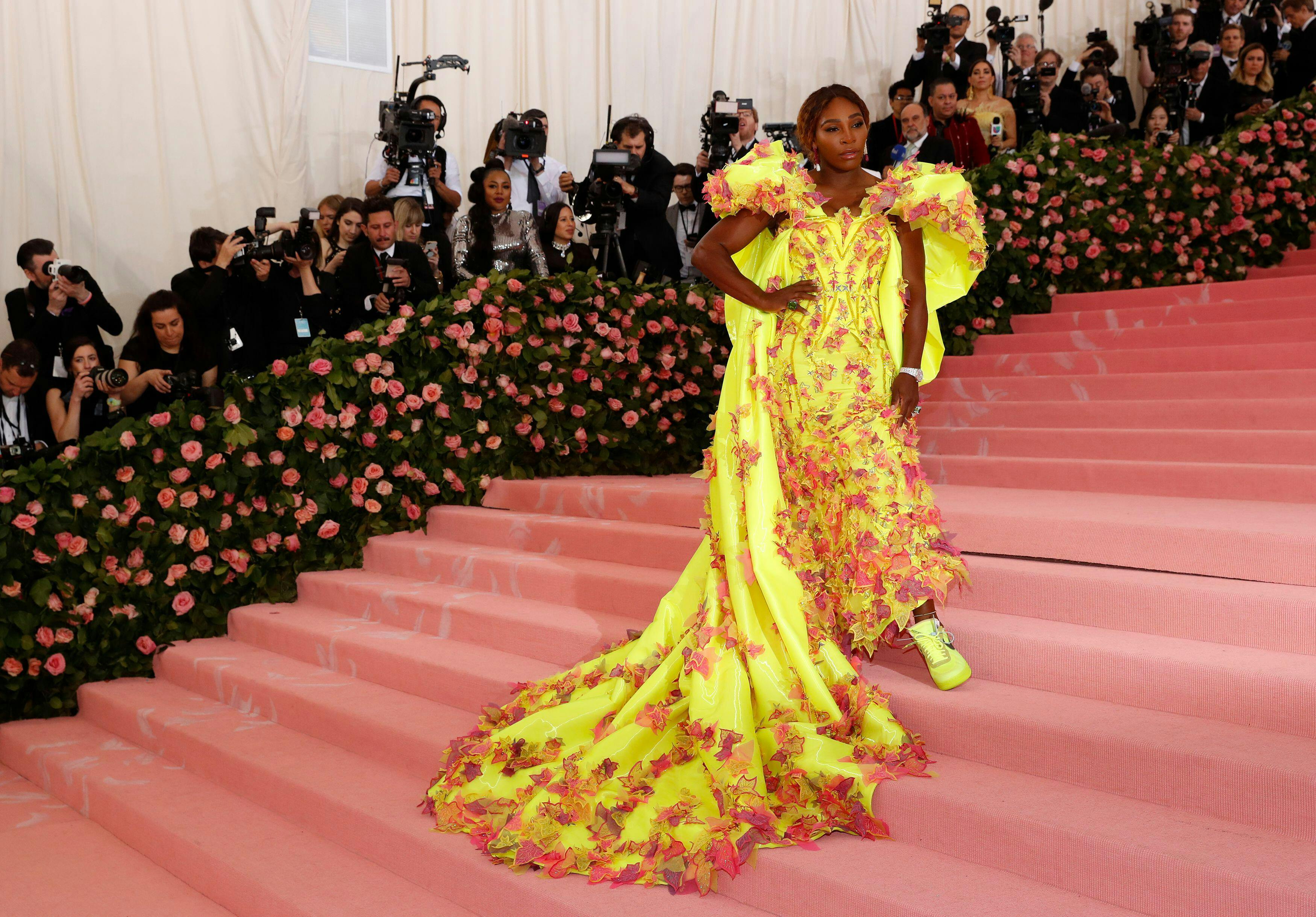 After several impressive tournament performances, Vogue featured the sisters  in a 1998 editorial shot by the famed photographer Annie Leibovitz. They were shown in floor-length gowns with bold black and white stripes by Carolina Hererra that matched their signature white-beaded braids. One can imagine the sound of beads tapping against each other with every sway, serve, and dash to the ball. The Williams sisters never shied away from attention, and did everything on their own terms: they were steadfastly themselves, even for a leading fashion magazine.
As Vanessa Freedman, the New York Times fashion critic has pointed out, how the sisters looked on the court cannot be easily separated from their style of game, and by extension their global influence. Serena, she writes "always had a bigger plan than just sports, and it was an intention embedded in the imagery she helped create. It was never just about adding a stripe here, some neon there. It was about self-realization, about expanding the definition of what was possible in myriad ways—physically, professionally—and who got to decide." After all, when she announced her intention to retire after the 2022 US Open, Serena did so on the pages of Vogue rather than in a sports magazine.
The publication, despite its exclusive reputation, has been a home for Serena since she first appeared in that 1998 editorial. She has appeared on numerous covers, was the magazine's guest at the 2019 MET gala in a yellow Atelier Versace evening gown paired with yellow Nike sneakers, and most recently she opened the runway show organized by the magazine for New York Fashion Week wearing a hooded silver gown and trailed by girls in white tennis dresses and rackets.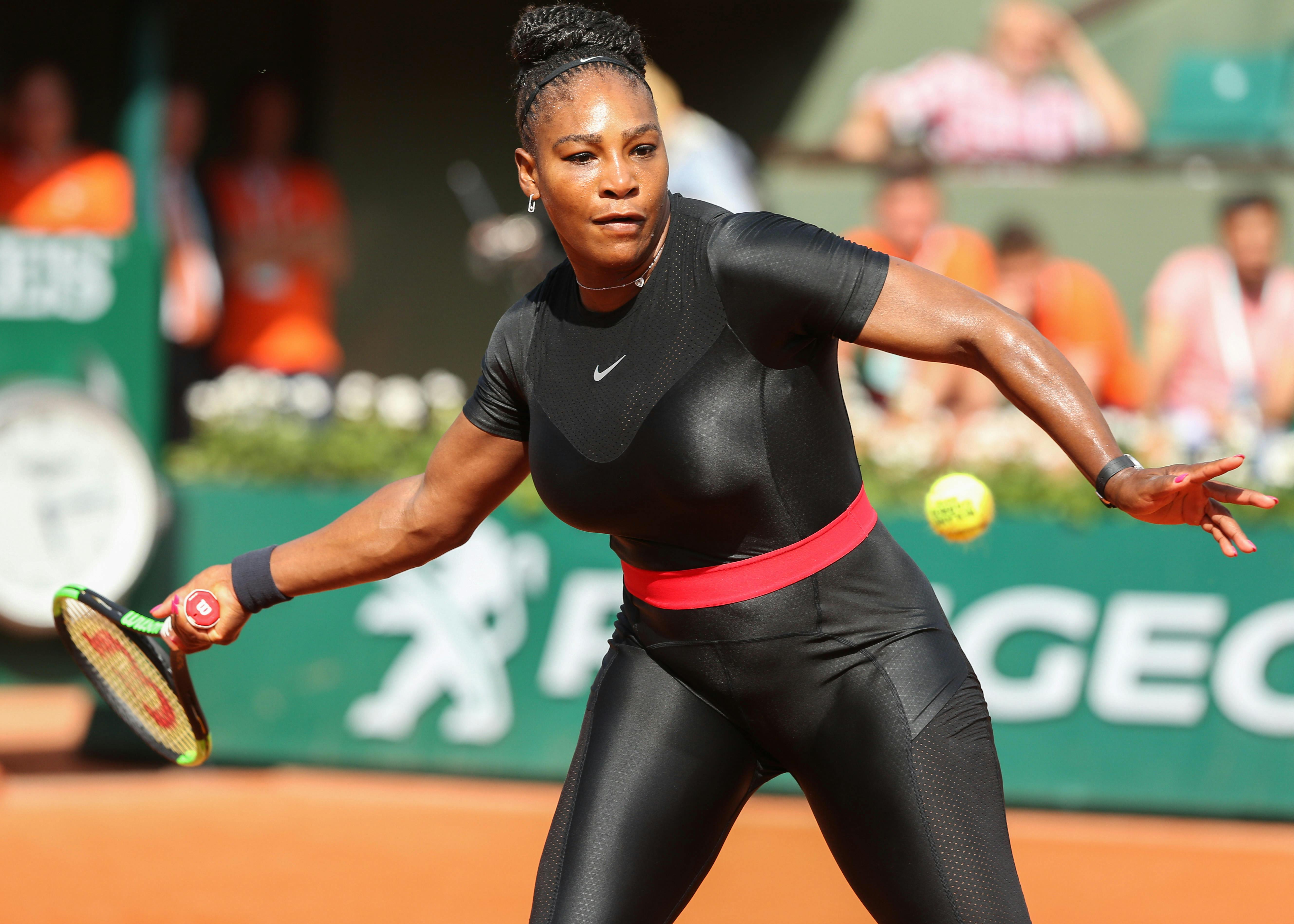 The magnitude of Serena's influence off the tennis court comes into sharp focus while surveying her decades-long relationship with Vogue. When the sisters were first featured in the magazine, the height of fashion was what was then termed "heroin chic": skinny, frail bodies onto which clothes hung loosely. On the tennis court, Serena's biggest rival was Maria Sharapova, a long-legged, slim blonde who described herself as "pretty." As Morris put it on The Daily, at the beginning of the sisters' careers: "There was an expectation that the game will remain skinny, blonde, corporally Eurocentric." Yet, he continued, "Along comes this person, Serena Williams, and she is not blonde, and she does not hail from Europe, she was curvy, she is muscular… Her body didn't conform to this alleged standard that the sport had set for itself."
For both Serena and Venus, dressing was not meant to defy, but to define. And it was clear to anyone taking notice that they took pleasure in expanding the vocabulary of tennis dress codes. When Serena moved from Puma to Nike, she launched a sartorial collaboration which yielded thousands of articles and blog posts ranking and commenting on her best (and worst) outfits. One of her most memorable early looks was a jean skirt inspired by the outfits of the tennis star Andre Agassi, who himself defied the dress code by consistently playing in fashionable jean shorts. In 2018, shortly after giving birth and recovering from a medical condition, Serena played the French Open in a black catsuit with a red belt, causing the French Tennis Federation to ban any future players from wearing similar outfits. The Federation's president Bernard Giudicelli explained: "You have to respect the game and the place." It is hard to imagine why a catsuit is considered more scandalous than, say, a short white tennis skirt revealing the player's underwear. Perhaps what elicited the outrage was not the outfit but the player: stronger, muscular, and more powerful than ever – even after becoming a mother. "The resistance to them [Serena and Venus]," explains Morris in relation to the criticism they have been subject to over the years, "is the resistance that has always been true for Black people in this country. There is no. going. back.  You can try if you want to, you can keep finding new ways to resist the changes, the progress that we have been trying to make this whole time, but we are still going to move forward. No matter what- it always feels so much bigger than tennis with these two for me."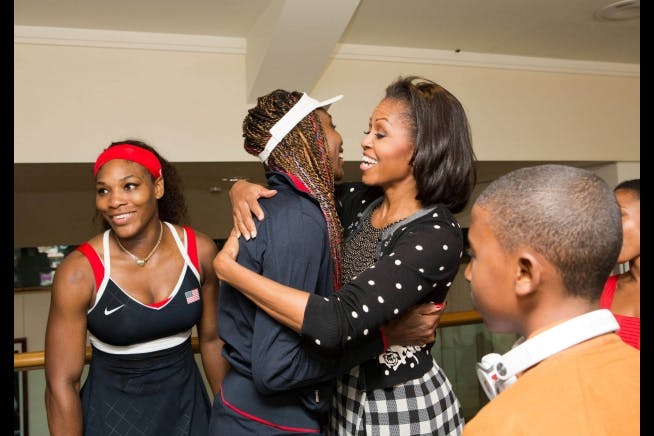 Appearance for Serena, however, has never been just about dressing: it is about representation and who gets to be at the center of the sport. Her success on the court, her fame, and her endorsements all allowed Serena to significantly move the dial. At Nike, her long-time collaborator, she launched the Serena Williams Design Crew program, an annual apprenticeship for ten designers from diverse backgrounds who create Serena-branded footwear and apparel collections. Seventy-eight percent of the companies that her venture capital firm, Serena Ventures, invest in are owned by women and people of color.  Alongside her cultural influence, Serena is quietly opening up doors for people who look like her and who grew up like her to give them life-changing opportunities they deserve: connecting them with global sources of power, money, and influence.
It might, as Morris has noted, take a few decades before we can truly grasp the Williams sisters' full influence on American culture. Yet Serena's legacy in women's sports is already cemented in history.
On the eve of her retirement, she wrote, "I don't particularly like to think about my legacy. I get asked about it a lot, and I never know exactly what to say. But I'd like to think that thanks to opportunities afforded to me, women athletes feel that they can be themselves on the court. They can play with aggression and pump their fists. They can be strong yet beautiful. They can wear what they want and say what they want and kick butt and be proud of it all."
Writtern by Keren Ben-Horin, curatorial scholar, Center for Women's History