As public historians, all of us at the Center for Women's History have been eager to follow the new HBO series, The Gilded Age, with Downton Abbey writer Julian Fellowes at the helm and historian Erica Armstrong Dunbar serving as a co-executive producer and historical consultant. The HBO ensemble series combines some of our favorite topics: women's and gender history, the history of racial and class inequality, and the history of New York City. While the show airs, our team will contextualize the show's narrative with tidbits from our own expertise as a diverse group of researchers and with resources from New-York Historical's collections, previous exhibitions, and prior blog posts. We've previously posted about the first two episodes and our theory about the historical inspiration behind the character Peggy Scott (Denée Benton). This week, we're dishing about episodes 3 and 4 in a wide-ranging discussion about Black life in Brooklyn, the social mores of NYC elites, homosexuality, and more!
*Potential spoilers to follow*
We've talked a lot about Peggy so far! What did we think about how her story has continued developing over these episodes? Her writing career has had some huge ups and downs over these two installments!
Keren Ben-Horin (Andrew W. Mellon Predoctoral Fellow in Women's History and Public History): The scene at the Chrisitan Advocate in episode 3 was heartbreaking! Peggy has two disadvantages: She is Black and a woman trying to break into a white, masculine world. The publisher mentioning Southern readership as a reason why Peggy would have to hide her race underlines the relationship between Northern businesses and Southern money. Though the series is set almost two decades after Emancipation, this scene reminds us that the North/South dichotomy is still politically muddled, with Northerners willing to put aside principles when it came to Southern money. 
Allison Robinson (Andrew W. Mellon Postdoctoral Fellow in Women's History and Public History): The fact that it is 1882 is crucial to Peggy's story. On one hand, the mainstream press—written for a predominately white readership—is growing. Local regions published weekly newspapers while metropolitan areas published dailies. Women had their own specialty magazines at this point: for example, Godey's Ladys' Book had been around since the 1830s and Lady's Home Journal was founded in 1883. On the flip side, the Black Press is in its fledgling era. Many of the weekly newspapers and quarterly magazines that are famous today—the Baltimore Afro-American (founded 1892), the Chicago Defender (founded 1905), The Crisis (founded 1910)—don't exist yet! And the ones that do, such as the New York Age are new and operating on a tight budget.
Black female journalists had a huge uphill battle, facing racism and sexism in a limited industry. The historical figures that Peggy might be inspired by—Gertrude Mossell, Ida B. Wells, Lilian Thomas Fox—all had to navigate the challenges of breaking into this industry. We see, however, that it can and did happen. In episode 4, Peggy gets her start at the New York Globe, which seems to be the fictionalized version of the paper where Gertrude Mossell actually worked. T. Thomas Fortune, who ran the real-life New York Age is the character who gives Peggy her first big assignment. And, fun fact, women's suffrage is the exact topic that Mossell wrote about early in her career there! I can't wait to see what happens next!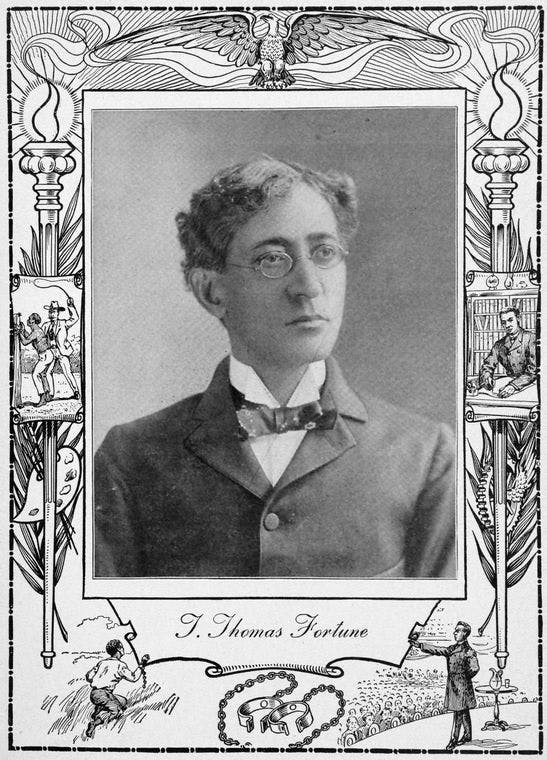 We also get to see more about Peggy's family and Black life in Brooklyn. 
AR: I've loved learning more about Peggy's family in the show. The Scotts are such an important vehicle to teach viewers about the lives of the Black elite in the post-Civil War period. Brooklyn (where Peggy's family lives) was a hotbed of African American political and social life well before the show's setting. Following devastating events such as the New York City Draft riots in 1863, many Black families moved to Brooklyn neighborhoods like Weeksville, located where Bedford-Stuyvesant and Crown Heights are today. As the city expanded into Brooklyn, African American communities were displaced. For example, Eastern Parkway, designed by Central Park designers Robert Law Olmsted and Calvert Vaux, was built during the period of the show and ran through Weeksville, destroying the community's cemetery. Weeksville shares a fate with Seneca Village (now Central Park) and was destroyed by the 1930s. 
But in the period of the show, members of the Black elite in Weeksville could become landowners and pillars of the community. They operated crucial businesses—much like Mr. Scott's pharmacy. They participated in the arts—so Mrs. Scott's career as a pianist and piano teacher is fitting—led churches as religious leaders, taught in and operated schools; started literary societies and charitable organizations; advocated for political advancement; and published written works, including books and newspapers such as the paper run by both the fictional and real-life Fortune. At one point, Weeksville was the second largest free Black community in the nation. To give viewers a glimpse into their world is a wonderful opportunity for the Gilded Age audience! 
Peggy's experiences with racism in predominantly white spaces—with the editor of the Christian Advocate, in Central Park, and in Bloomingdale's—are so important and offer a stark contrast between their experiences in Manhattan and the Scotts' lives in Brooklyn.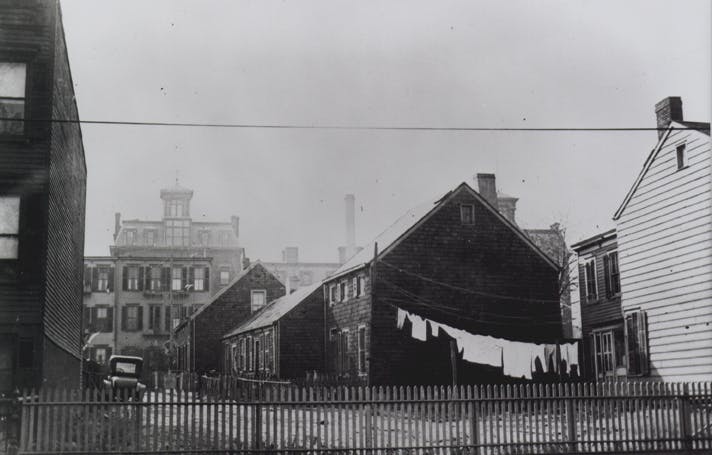 How realistic was the Scott family home itself?
AR: The construction of the Scott's home would have been unusual in Black-owned Brooklyn. Areas like Weeksville that served as centers of the free Black community largely consisted of wooden homes rather than the brick rowhouse occupied by the Scotts. 
However, the wealth displayed by the Scotts would not have been unusual among the Black elite. Those who could afford it lived lavish lives—homes filled with books and art, tours of Europe, vacations to Saratoga and Idlewild, and debutante balls just for starters. As we saw in the show, they also hired servants (sometimes Black, sometimes white) to run their homes. And Peggy's parents mentioned that they have a young man that they want her to meet—members of the Black elite often married their children to one another, just as we'd expect in the world of wealthy white families like the Van Rhijns.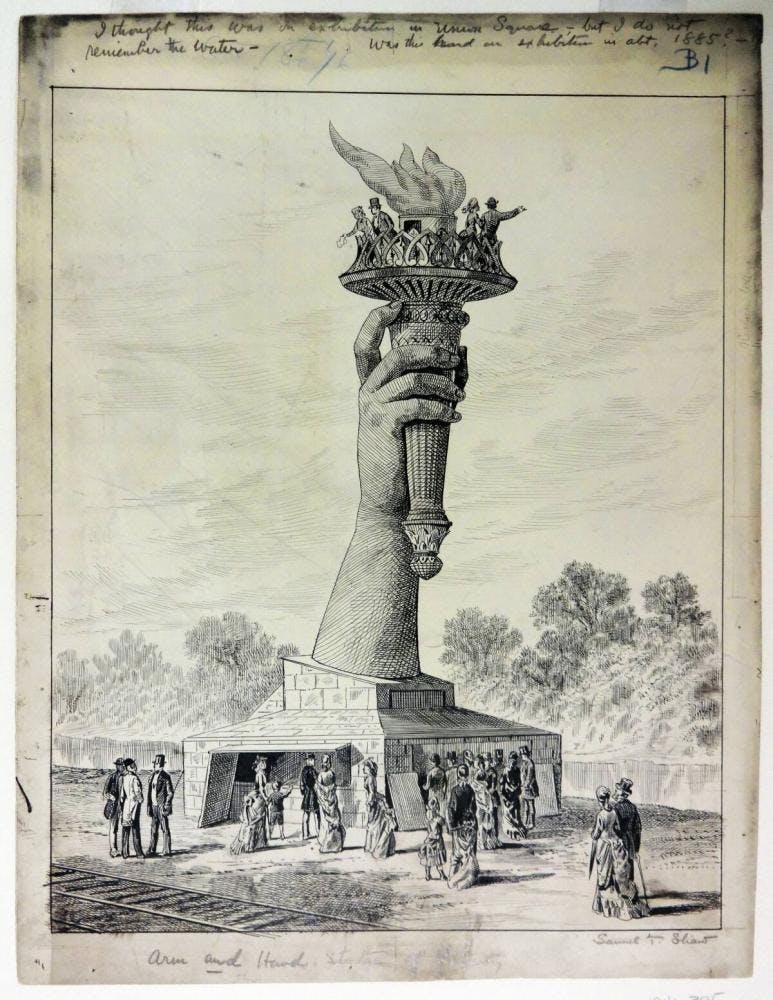 Speaking of space and historical context: How about the Statue of Liberty's hand in Madison Square Park?
KBH: I just loved that scene. The Liberty hand was on display at Madison Square Park for six years! The scene beautifully illustrated the culture of strolling in the city. The 19th century was a time when urban centers, and New York in particular, started to really expand both in population and in space. Suddenly there was a greater need to re-order the chaotic city, and we can see that not only in the development of the city's grid layout, but also in the building of parks and other public spaces that were designed in a way that almost demanded orderly use. Take Marian and Raikes' walk on a path throughout the park: We now take for granted that parks have paths and benches, but these conventions were established in the 19th century to control crowds and model a more "orderly," middle-class way of using public space. City streets remained busy, dirty, and disorderly, but parks became these acceptable, and respectable, spaces for middle and upper-middle class people to stroll around in their finest clothes. 
I also couldn't help noticing during that scene the curls at the back of Mariana's hairdo! Curls were all the rage in the 1880s, and we can see them in different hairstyles: sometimes hanging from the back, some with curled bangs, and others, like Marian's, incorporated into updos. In 1872, the French hairdresser Marcel Grateau invented the curling iron tongs. Before then, women had to sleep with uncomfortable nighttime iron curlers. This new invention led to new hairstyles incorporating prominent curls—although if women were not careful, they could easily burn themselves!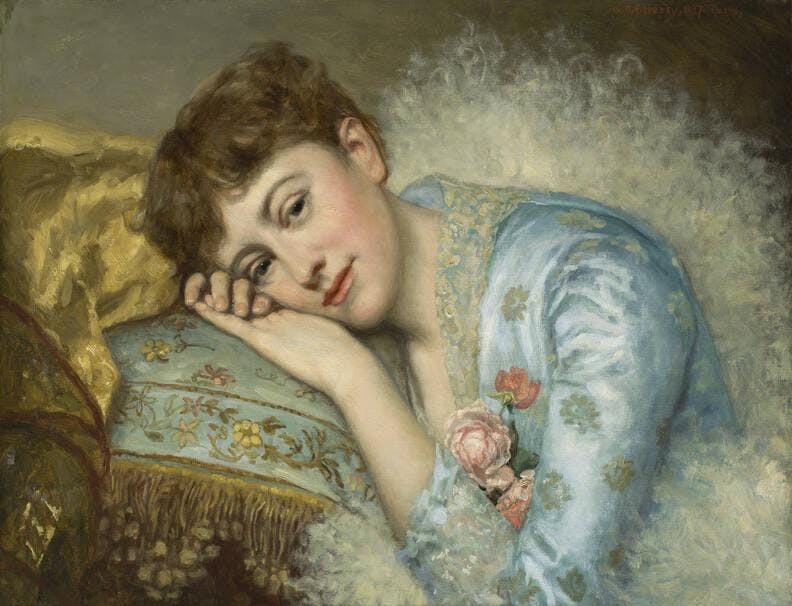 What is going on with these repeated mentions of how the nouveau riche are excluded from the Academy of Music? What's the historical backstory?
Valerie Paley (Sue Ann Weinberg Director of the Patricia D. Klingenstein Library): I'm a nitpicker about this! In Episode 3, Bertha Russell first mentions the new opera house—the Metropolitan, built in large part by the social cast-offs snubbed by the old-guard Academy of Music set—she says matter-of-factly that "Morgan, Rockefeller, Vanderbilt" are behind it. I nearly choked on my glass of champagne! (Kidding. Not really.) In April 1880, 54 men incorporated the Metropolitan Opera House Company Limited of New York. The minimum cost to buy into the venture was $10,000, during a time when the U.S. per capita income was $147. Members of the Vanderbilt family alone ponied up around $60K. Morgan was in the $10K category, along with a Roosevelt (uncle of Theodore), some Goelets, a Havemeyer, and others whose names are less commonly known today. No Rockefellers. Their philanthropic interests were different and, in many ways, more serious, focused on religious and educational initiatives. While the Rockefeller family certainly was financially comfortable then, it was a decade or two later when it would become associated with monumental wealth.
And speaking of a decade or two later, has anyone noticed the totally wrong period and style of the portrait of Bertha that hangs prominently in one of the family's public rooms? She's wearing a light diaphanous gown more out of the 1920s than the ornate and elaborate structured clothing in which the show's protagonists are dressed to evoke the 1880s.
But aside from these specifics, the "opera wars" of this period concerned the ardent desire of women to be seen in their finery attending the opera, seated in the boxes they owned like a piece of real estate. The limited number of such seats at the Academy—in many ways by design—kept out the "new people," which is why those very people were motivated to build the Metropolitan, which was grander in every way, including, of course, the boxes. The opera scene in episode 4 consequently is all wrong. The actual theater in which it is set, standing in for the Academy of Music, has only boxes on the sides, and not all the way around (at least that's what I saw on my TV). Wrong. Our characters are going to a concert of the Boston Symphony—while not implausible, totally wrong, too. They would have been going to the opera, because it was the opera that mattered most. Finally—although this was the period when audiences went to entire operas lasting 3 or 4 hours only to stay another 2 or 3 for a full-length ballet following—I'm not sure if audiences ever got up for a short intermission between movements of a single symphony. Just. Isn't. Done. (I hope maybe, perhaps, it was a different piece in the program? That wasn't clear to me.)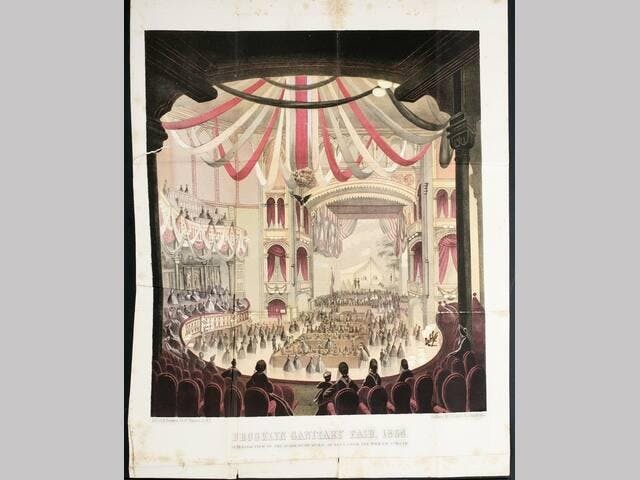 Speaking of what just isn't done: What do we think about Bertha's repeated faux-pas on the elite social scene?
Nicole Mahoney (Manager of Scholarly Initiatives): Let's talk about Bertha Russell's first flop "at home" from the first episode! The tradition of elite women hosting these types of open-house evening events dates back to the Enlightenment in Europe and the early republic in the U.S.—and Bertha missed the mark on almost all points. While not strictly an institution, the at-homes would have followed a loose schedule—that is, Mrs. Astor might have entertained on Mondays, Mrs. Morris on Wednesdays, and so on. So Bertha probably would not have been able to attract 200 guests on any given night of the week unless her home was more established in the rotation, so to speak. The idea that hosting an at-home would have propelled her to the top of the 400 was also misguided: You needed to already be at the top of the top to claim that kind of sway over large society events. She would have been better served by pushing herself into the homes of other society women at first, winning their favor, and slowly elbowing out other social climbers for her spot among the leading women. Then, she should have started hosting smaller at-homes with a few dozen women to create buzz and exclusivity before hand-delivering invitations to 200 guests. Her character seems painfully ignorant of these levers and mechanisms for someone who could not have been all that far removed, watching the Astors perhaps for a decade from midtown.  
VP: Ah, but in Episode 4, we also see how "painfully ignorant" Mrs. Russell's butler, "Church," is when he gets a lesson in setting a table from Bannister, his English counterpart from across the street. Bannister's similarly snooty dismissal of the Russells' fancy French chef's choices for lunch and dinner might appear petty and maybe a bit envious, but it speaks to the subtleties and nuance of the American upper class of the time, and of which Bertha is thoroughly uninformed and inattentive. The tensions between "upstairs" and "downstairs" are interesting, because in many ways the Russells and their staff are on an equal playing field, and the grand "masters" are beholden to their servants for guidance on how the sophisticated are supposed to behave.
We also got to see another real historical figure in these episodes: Clara Barton!
AR: This was a fun, real-life cameo! Clara Barton founded the American Red Cross in 1881 and led the organization as its president until 1904. I really appreciated how the show depicted how important Washington politics are to the history of the Red Cross. In the episode 3 scene where Barton is fundraising for her new organization, Mrs. Astor asks whether Barton is confident that she would find support. The year matters: In the 1870s, Barton lobbied president Rutherford B. Hayes, as a Representative of the International Red Cross, to support the Geneva Conventions which established the red cross as the symbol of medical personnel in times of war—but he refused to do so. So it is important that the fictional Barton also mentioned that "unfortunate events have altered things in Washington" in her answer to Mrs. Astor's question. This line alluded to the the assassination of President James A. Garfield in 1882 and the beginning of president President Chester A. Arthur's administration. President Arthur specifically mentioned the American Red Cross in his first address to Congress and ratified the Geneva Conventions in March 1882. This was a delightful historical nugget! 
VP: I found the Clara Barton and the Red Cross plotline so interesting because in my own work on this period, I'm inclined to see the germ of the Red Cross in the Civil War Sanitary Commissions (which sponsored fundraising fairs like the one Mr. Russell buys out). I had to look it up. But in fact, Barton and her D.C. politics story is true, gutsy, and a grassroots fundraising story, particularly concerning women. Either way, we're looking at women as the catalysts.
AR: Similarly, in episode 4, Mrs. Russell comments that the first branch of the American Red Cross was in Dansville, New York. Again, this is another fun fact that is true! Barton founded it in 1881, shortly before the show's setting.
Anna Danziger Halperin (Andrew W. Mellon Postdoctoral Fellow in Women's History and Public History): I was so intrigued by the suggestion in episode 4 that Bertha should get involved in the Red Cross not only because participating in charity work will raise her social profile, but also be good for the railway business: if there are any deadly accidents, the Russell name being associated with the Red Cross could mitigate any PR damage. I wonder if this will come up again in future episodes. But also, it reminds me of the rampant corruption we're seeing.
The way that everyday instances of corruption are built into this story is so interesting—from the cook who was gambling in episode 2 to Russell's unsavory dealings with the city aldermen, which leads to Morris' suicide. What do we think about how this has been portrayed?
AR: The Securities and Exchange Commission, which monitors the sale of stocks, bonds, and other securities on the stock market, wasn't founded until 1934. With no oversight whatsoever, the plot of episode 3—that Mr. Fane, Mr. Morris, and his fellow alderman tried to short the stock—could have easily happened behind closed doors.
VP: What I find interesting about this plotline is how women and their social hijinks seriously figure in it. George Russell seems to be almost as concerned with vindicating his wife's wounded pride as he is in making the old guard men squirm and capitulate to his pursuit of money and power. We cannot forget that in reality, what made the old-guard "queen" Mrs. Astor finally surrender to the arriviste Alva Vanderbilt was not some business deal consuming their husbands, but the fact that her young daughter Carrie desperately wanted be invited to the grand Vanderbilt "housewarming" fancy-dress ball in 1883. (By the way, it was a housewarming for their grand new Richard Morris Hunt house on Fifth Avenue and 52nd Street—firmly south of the mansion of our fictional Russell family, and decidedly north of wherever the Van Rhijns would have lived.) Carrie was already rehearsing a little dance she and her girlfriends were going to do at the party. But she didn't receive an invitation because her mother wouldn't deign to call upon Mrs. Vanderbilt. Mrs. Astor finally caved, her daughter got that coveted invite—and the rest, as they say, is history. 
Certainly, I can just feel that something along these lines will happen in The Gilded Age! It's kind of hilarious knowing even that little tidbit, that the script casts the Vanderbilts and Astors as part of the same social ilk, mentioned in the same breath. That definitely was not the case so early on. It would appear that Bertha Russell is modeled on Alva Vanderbilt, albeit a much more tone-deaf version. But the distinction in terms of the year in question is important to the larger Alva narrative. In many ways, in spite of the family's colossal wealth, it was she who put the family on the map. She's the one who also forced her daughter Consuelo to marry the Duke of Marlborough, quite the Gilded Age "get" among American wannabes buying their way into the European aristocracy. Even so, it would be years before the Astors and the Vanderbilt families would be considered part of the same social circle.
AR: As an aside, can I just say how much I love the cinematography and editing in this TV show? The cut scene comparing the burial of Mr. Morris with George Russell's success getting his train station plans underway was beautifully shot and edited. 
VP: Yes, it is visually lovely. But I find the brand-spanking-new look of the street scenes a bit like landing in a historical theme park, like Williamsburg, VA. Everything seems of the same level of cleanliness (or dirt), without the nuance of how certain buildings or urban places, even of the same period, degrade at a different pace depending on a variety of circumstances, giving a streetscape its patina. Even though I recognize some of the location shots as Troy, NY, standing in for NYC, and while they still bear a charming 19th-century aura, the context feels strangely dissonant and simply "not right" to me. I'm not really sure why I can't suspend my knowledge as a historian and lean into the idea that, yeah, sure that's Manhattan, not downtown Troy! I could do it for Bridgerton, but not for this. Perhaps because the show aspires to a standard of historical authenticity and accuracy that it gets only halfway.
Let's talk about Oscar's sexuality.
KBH: In the first episode, we saw that Oscar Van Rhijn has a sexual relationship with John Adams. But in subsequent episodes, we see him plotting to marry Gladys Russell. I am curious to see how the show continues to develop his character, because sexual realtionships with men and homesuxality during that time period were not necessarily one and the same. So will they take the modern interpretation to this character as a closeted, but pragmatic, homosexual, or will they show the sexual fluidity that men in his time and class enjoyed? 
It was also interesting how domesticated Oscar and John Adams seemed in the third episode, in contrast to the scene in which Bertha invites her husband to bed with her. Elite and middle class couples often did sleep in separate rooms as a class/status practice. 
Ksenia Soboleva (Andrew W. Mellon Gender and LGBTQ+ History Fellow): Since sodomy wasn't criminalized, it was definitely something you could leisurely engage in if you were wealthy— especially if you were "artistic". I loved that moment when the older maid says to the younger maid: "You don't have what he's interested in." I was hoping it was an implication of his queerness, but then she provides the real answer: "Money." Ha! But I think the narrative thread they're pursuing is that Oscar is a bad guy like his father, so despite his queerness, he will pursue Gladys for money and treat her badly once he gets her.
NM: Oscar is, in my opinion, one of the most exciting characters on the show so far. He not only spars with his mother privately and then acts the role of dashing prodigal son in public, but also shows tendencies towards rakishness and womanizing in the way he targets Gladys for her family's money while literally keeping John Adams behind a locked door.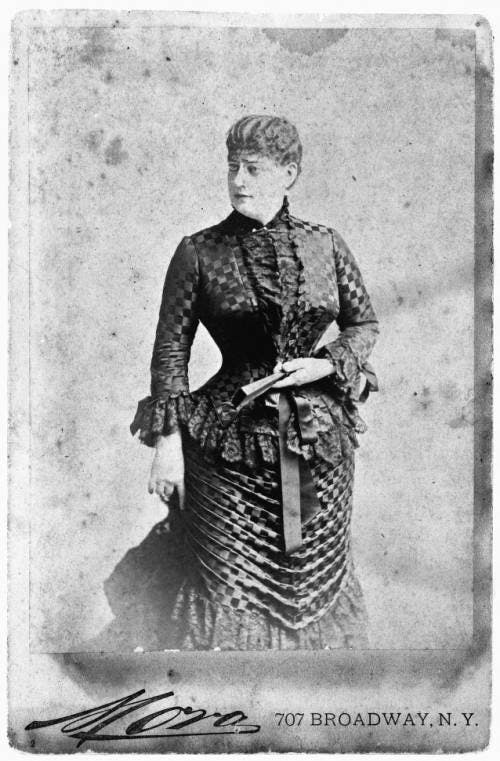 Finally, who in the heck do we think Augusta Chamberlain might be based on?
NM: My initial theory was that Mrs Chamberlin was formerly a prostitute, servant, or mistress who married her wealthy benefactor, similar to Eliza Jumel and Stephen Jumel. But the idea that she was a feminist might have been equally as offensive to the sensibilities to the Old Guard ladies!
ADH: Early on, I wondered if Mrs. Chamberlain may be modeled after Victoria Woodhull—wouldn't that be fun? But In episode 3, we find out that she had a baby out of wedlock, and this is more fully described in episode 4 when Ada tells Marian that Augusta was Mr. Chamberlain's long-term mistress. 
AR: Does anyone know about the biographies of Charles Avery or John Hays? In episode 4, Mrs. Chamberlain told Marian that her husband was very lucky when he discovered the copper mines in Keweenaw County, Michigan. I'm wondering if one of them is a candidate? Charles Avery led that project starting in the 1840s as the president of the Pittsburgh and Boston Company and John Hayes was the agent that directed the mining project. The little I know about Charles Avery surrounds his political work supporting the black community—he was part of the Underground Railroad, established churches and schools for African Americans, and founded Avery College. Perhaps the wife of John Hays is a candidate for Mrs. Chamberlain? I don't know much about them.
VP: indeed! Because of the amazing art on her walls which she clearly had a hand in collecting, I had thought she might be Louisine Havemeyer, who didn't have a mysterious back-story–but, hey, Julian Fellowes is taking many liberties with history in this series. But I've also heard that he modeled her on Arabella Huntington, a much closer match. 
ADH: There are so many possibilities! It just goes to show that despite the very rigid gender norms of this time period, there actually were quite a few elite women who chafed against the "rules" and pushed to live their lives on their own terms—and to change society so that all women would have more freedoms. I'm looking forward to seeing how Augusta's storyline continues and whether Marian will shake things up or follow her aunts' example.
Stay tuned to Women at the Center for our thoughts on future episodes!
The conversation has been edited and condensed by Anna Danziger Halperin, Andrew W. Mellon Postdoctoral Fellow in Women's History and Public History, Center for Women's History