How can a simple pincushion—created by an unidentified Haudenosaunee (Iroquois) artist—represent the survival and adaptive skill of Indigenous artistry within an international marketplace. The object is adorned with tiny, colorful glass trade beads stitched into raised, three-dimensional designs characteristic of Haudenosaunee beadwork. These embellishments, originating in Venice and Eastern Europe, were introduced to North America by British and French settler colonists. This Indigenous People's Day, the Center for Women's History celebrates Haudenosaunee artistry and examines the history behind this object.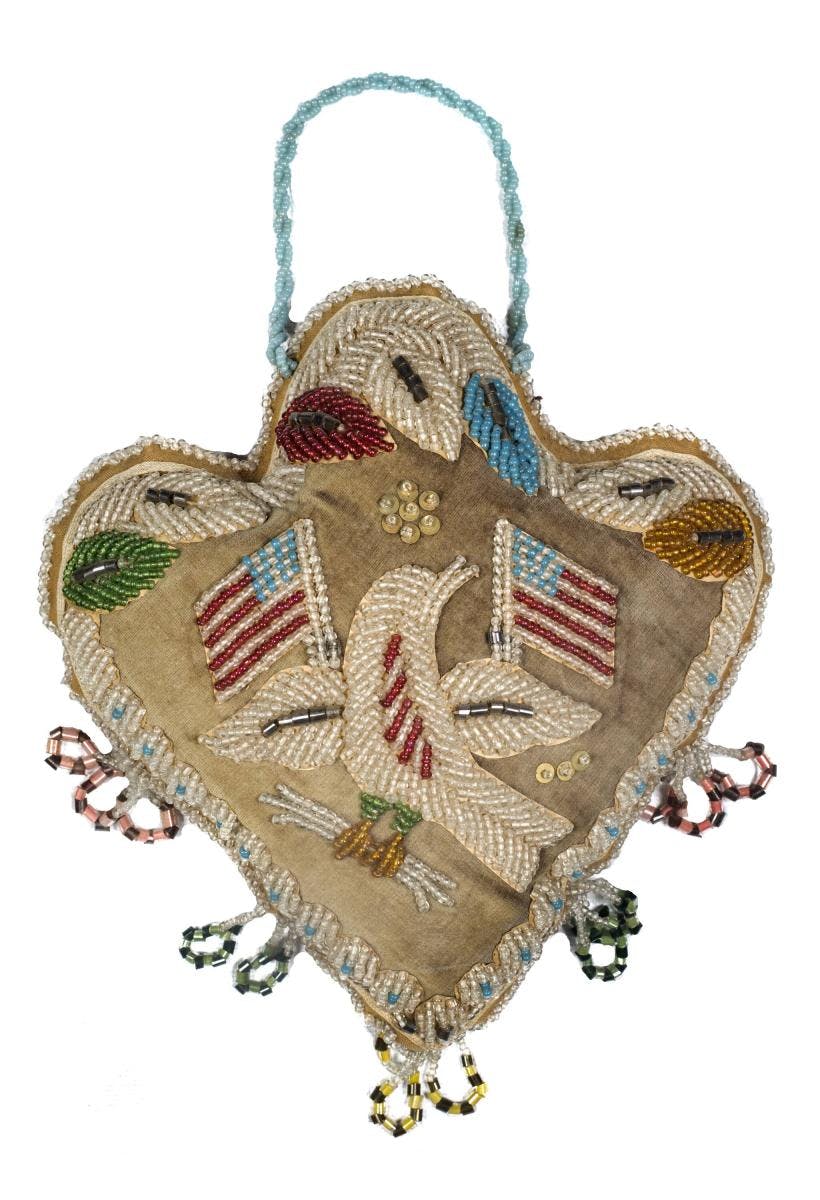 National Heritage Fellow Karen Ann Hoffman (Oneida) describes beadwork as the latest iteration in "a long chain of unbroken cultural transmission," wherein forms and designs that had formerly been executed in stone, clay, shell, or hide, are now sewn in beads. Originally used as jewelry or to decorate clothing, in the early 1800s Haudenosaunee artists began ornamenting pincushions, purses, picture frames, card holders, and keepsakes with multiple rows of glass beads sewed directly onto paper patterns laid over velvet or wool to create a mounded effect.
While traditional Haudenosaunee designs often feature flowers, leaves, and other woodland motifs, this pincushion depicts an eagle and two American flags, indicating that it was created for the souvenir market that sprang up around Niagara Falls in the latter half of the nineteenth century. Originally home to an Indigenous group called the Onguiaahra, who were displaced by the Haudenosaunee (Iroquois) people in the mid-1600s, Niagara was an important site in the international fur trade, bringing Indigenous nations together and also attracting French voyageurs. Glass beads were among the commodities that the French exchanged for animal pelts and hides, in addition to metal tools and kettles, European fabrics and clothing, and firearms. 
This lucrative trade would not have been possible without the participation of Indigenous women, who skinned, scraped, and dried the skins for transport. Women also sewed and waterproofed the birchbark canoes that were essential for traversing the region's waterways, and many took French husbands—not only benefiting economically from these connections, but helping to solidify international and interethnic trade and kinship networks.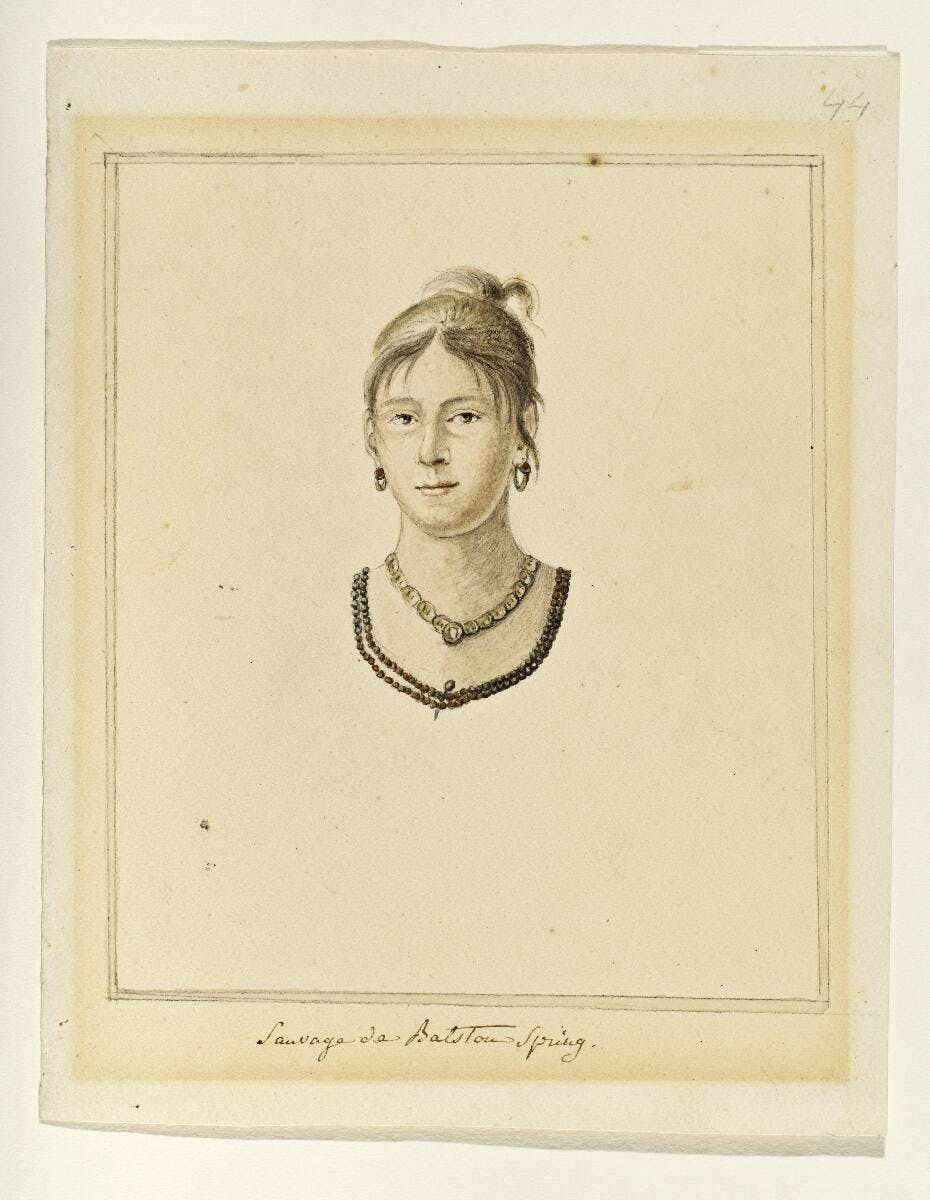 However, over the course of the 1700s, pressure from British colonists and British-allied Haudenosaunee Nations increased, with the Seneca Nation in particular resisting French encroachment in the area around Niagara Falls. In 1763, the French ceded present-day Canada to the British, and Niagara became a British stronghold. It remained so during the American Revolution, which split the Haudenosaunee confederacy. After a brutal campaign in which the Continental Army destroyed the villages and food supplies of the British-allied Mohawk, Caygua, and Seneca, thousands of women, children, and elders fled to Fort Niagara, where they were forced to depend on the British for food and supplies. The British only narrowly avoided famine and felt little compunction about abandoning their Haudenosaunee allies, failing to include them in the terms negotiated by the 1783 Treaty of Paris which ended the Revolutionary War. Instead, the US dictated the 1784 Treaty of Fort Stanwyx, establishing the first reservation territory in the United States and forcing the Haudenosaunee to cede their interest in land beyond the reservation boundaries. A subsequent wave of non-Native settlers and speculators soon appropriated much of the land around Niagara Falls—including businessman Augustus Porter, who bought much of the land on the American side of the falls at auction in 1805. It had been ceded by the Seneca three years prior.
After the War of 1812, the Porter family built mills, tanneries, shops, and tourist attractions in and around the Falls, which were made increasingly accessible by the completion of the Erie Canal in 1825 and railroad links constructed in later decades. By the end of the 1800s Niagara was crowded with non-Native travelers eager to take in the stunning vistas. The tourism industry grew—hotels, souvenir-sellers, photographers, and other amenities emerged in the area. Indeed, it became so built-up and commercialized that European tourists frequently cited it as an embarrassment to the United States, calling the Falls "spoiled," "shabby," and proof that "patriotism, taste, and self-esteem are not the leading features" of the American character. In response, influential conservationists including Frederick Law Olmstead, Calvert Vaux, Henry James, Ralph Waldo Emerson, Henry Wadsworth Longfellow, and Frederic Church began campaigning to "Free Niagara'' of fences, factories, and other structures that obscured or diminished the view. In 1885, the movement led to the creation of the Niagara Reservation, the first state park in New York and in the United States.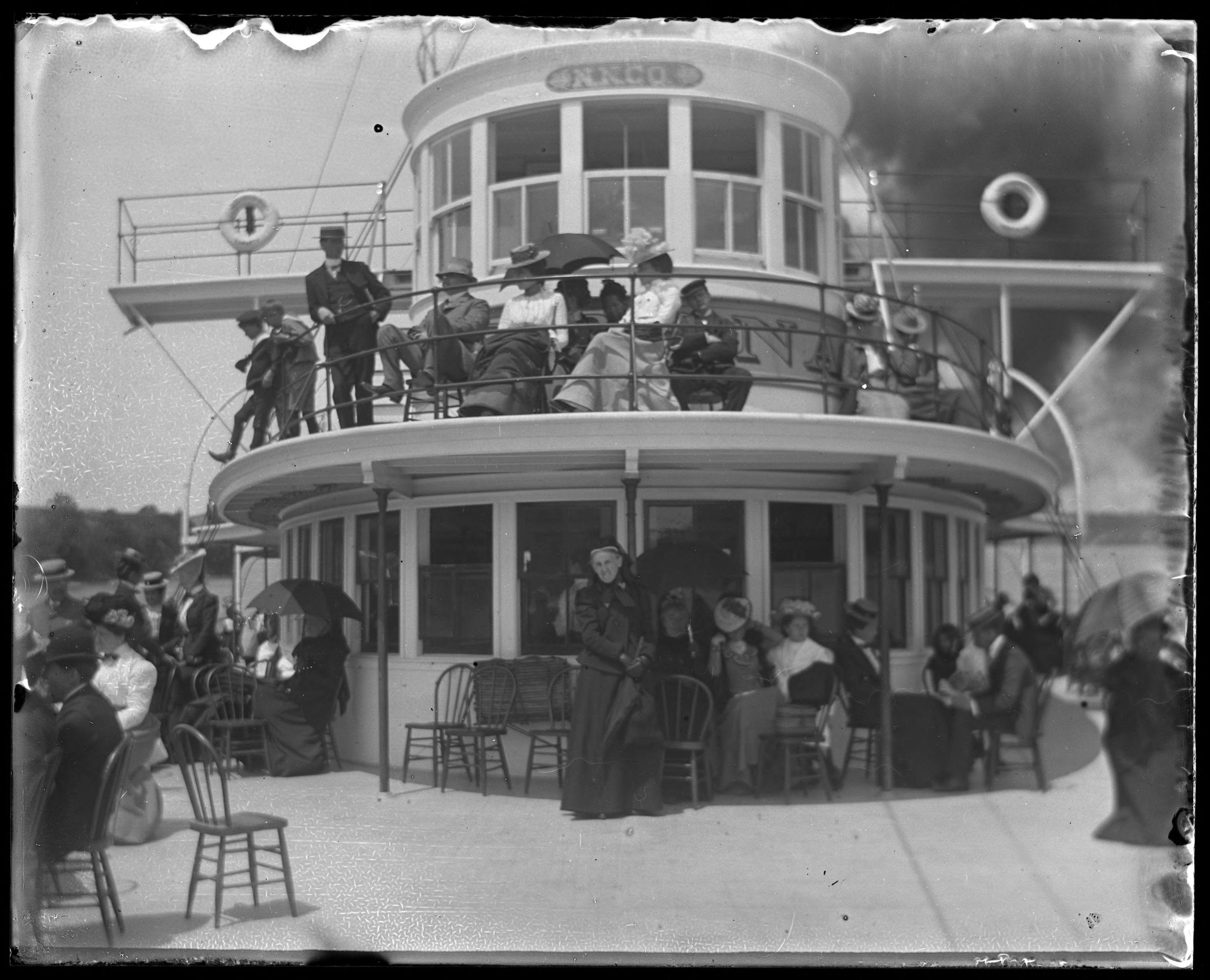 Late 19th-century visitors in search of an "authentic" Niagara experience might have gravitated towards souvenirs created by Indigenous artisans because they sought to partake in a romanticized, elegiac version of the American landscape. At best, this vision might include Native Americans as symbolic of "unspoiled" or "primitive" nature—vanishing under pressure from the twin forces of modernization and industrialization, existing only within carefully bounded parks or reservations.
In reality, as this beaded pincushion shows, Indigenous artisans adapted and persisted. Bounded by reservations that represent less than a tenth of a percent of their original territory and largely unable to subsist via traditional methods of hunting, fishing, and trapping, Haudenosaunee beadworkers developed an important new source of income. The exquisite beadwork, with its blend of Western materials, popular motifs, and Indigenous artistry, also worked to disprove widespread stereotypes that dismissed Indigenous people as unskilled and uncivilized. Demand was so high that, as artist Carla Hemlock (Kanienkeháka) recalled, beadworkers developed a sophisticated business model in order to meet it. Each family created and passed down unique patterns to avoid overlapping and duplication. However, they would also share with other families upon request, thereby building intergenerational and inter-familial ties. The recipients could help with production, which was done assembly-line style. The final wares would be sold at world's fairs, Wild West shows, and other places that commodified Native American identity. 
Today, these pieces are highly sought-after by collectors and institutions. In the words of art historian Ruth B. Phillips, they are recognized as examples of creativity, successful entrepreneurship, artistic excellence, and contemporary vitality.
Written by Jeanne Gutierrez, curatorial scholar, Center for Women's History