Women's History Salons
Alida Livingston's World: Women in New Netherland and Early New York
Featuring: Joy Bivins (keynote speaker)
Saturday, October 1, 2022
$22, includes Museum admission (Members, $12; Women's History Council, free)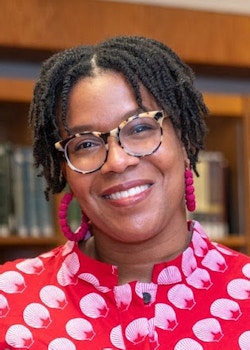 Event Details:
Explore the lives of the women—Dutch, African, Indigenous, and English—who shaped and built New Netherland and colonial New York in the 17th and 18th centuries. Presented in partnership with the New Netherland Institute, this conference will feature two panel conversations and a keynote address inspired by the on-going translation of the papers of Alida Schuyler Livingston (1656-1727), an elite Dutch woman who exerted substantial influence over colonial politics, economics, and diplomacy. Her correspondence with her husband Robert Livingston (1654-1728) represents one of the most significant collections of women's writing in seventeenth-century North America. Leading historians and scholars will use Livingston's surviving letters, business records, accounts, and documents to unearth the impact of  women, including those enslaved by the Livingston family and those indigenous to the region, on the history of the Dutch and later British colony. 
Conference Program
1-1:10pm: Welcome
Deborah Hamer, Director, New Netherland Institute.
1:10-2:15 pm: The Correspondence of Alida Livingston and Early American Women's History
Valerie Paley (chair), Senior Vice President and Sue Ann Weinberg Director Patricia D. Klingenstein Library at the New-York Historical Society; Russell Shorto (moderator), Director of the New Amsterdam Project at the New-York Historical Society; Jos van der Linde, translator, Alida and Robert Livingston Correspondence; and Charles Gehring, Director of the New Netherland Research Center.  
2:15-2:30 pm: Break
2:30-3:45pm: Alida Livingston in Context: Women in New Netherland and Colonial New York
Deborah Hamer (moderator); Cynthia Kierner, Professor of History, George Mason University; Nicole Maskiell, Associate Professor of History, University of South Carolina; Erin Kramer, Assistant Professor of History, Trinity University; and Andrea Mosterman, Associate Professor, Joseph Tregle Endowed Professor in Early American History, University of New Orleans.
4-5 pm: Keynote Address
Joy Bivins, Director of the Schomburg Center for Research in Black Culture.
5-6 pm: Reception and presentation of Hendricks Award and Van Slyke Article Prize.
Buy the books! Shop the NYHistory Store for titles related to this program:
Cynthia A. Kierner, Traders and Gentlefolk: The Livingstons of New York, 1675-1790 
Nicole Saffold Maskiell, Bound By Bondage: Slavery and the Creation of a Northern Gentry 
Andrea Mosterman, Spaces of Enslavement: A History of Slavery and Resistance in Dutch New York 
D. L. Noorlander, Heaven's Wrath: The Protestant Reformation and the Dutch West India Company in the Atlantic World 
Russell Shorto, The Island at the Center of the World: The Epic Story of Dutch Manhattan, and the Founding Colony that Shaped America 
Go to our Visit page for the most up-to-date information about safety requirements for program attendance.
Location:
The Robert H. Smith Auditorium at the New-York Historical Society, 170 Central Park West, New York, NY 10024
Livestreaming:
Unable to attend in person? Join us via livestream! Livestream Access: $22 (Members, $12; Women's History Council, free)
The day before the program, we will contact all livestream ticket holders with instructions on how to view the program via Zoom. If you do not receive a message, please check your spam folder. Subject to availability, livestream tickets will be available via online purchase up until the program start time.
Ticket Instructions:
By phone: Contact our Call Center at (212) 485-9268 from 9 am–5 pm daily.
Online: Click on the button at the top of the page.
In person: Purchase tickets on site at the admissions desk during Museum hours. 
Chairman's Council: To request tickets, email chairmanscouncil@nyhistory.org.
Members and Women's History Council Members: Sign in with your Member login on the next page to receive your discount. If you need a login or have any questions, contact the Call Center at (212) 485-9268 or call.center@nyhistory.org.
Advance purchase is required to guarantee seating. All sales are final; refunds and exchanges are not permitted. Programs and dates may be subject to change. Management reserves the right to refuse admission to latecomers. 
Advance registration closes three hours prior to program start time. Subject to availability, tickets will be sold onsite up until 4 pm.
Co-sponsored by the New Netherland Institute, the New Amsterdam Project, the Netherland-America Foundation, and New-York Historical's Center for Women's History. With generous support from the Consulate General of the Kingdom of the Netherlands.