Talks
Lincoln and Democracy: Government by Reason or by Passion?
Featuring: Allen C. Guelzo
Louise Lehrman Distinguished Fellow at New-York Historical Society Lecture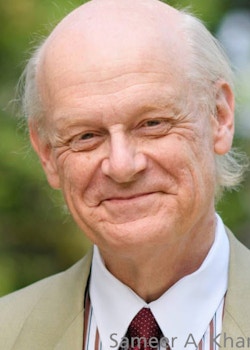 Event Details:
For Abraham Lincoln, democracy was the default position of human politics. Yet, the democratic instinct had to be nurtured and protected—nurtured by reason, and protected from the threat of passion. Reason would work through the rule of law, through understanding, and through education. Passion, however, would wreck a democracy by tempting it to fury, violence, and authoritarianism. This poses a challenge as critical in our day as in Lincoln's, and Lincoln's answer is worth our hearing.
Allen C. Guelzo is director of the James Madison Program Initiative on Politics and Statesmanship and senior research scholar at the Council of Humanities at Princeton University. He will serve as Louise Lehrman Distinguished Fellow at New-York Historical Society beginning in November 2022.
Buy the books! Pick up titled related to this program in the NYHistory Store:
Lincoln: A Very Short Introduction by Allen C. Guelzo
Abraham Lincoln, 2nd Edition: Redeemer President by Allen C. Guelzo
Robert E. Lee: A Life by Allen C. Guelzo
Go to our Visit page for the most up-to-date information about safety requirements for program attendance, including vaccination and masking procedures.
Location:
The Robert H. Smith Auditorium at the New-York Historical Society, 170 Central Park West, New York, NY 10024
Livestreaming:
Unable to attend in person? Join us via livestream! Livestream Access: $30 (Members $20)
We will contact all registered attendees with instructions for viewing the livestream the day before and the day of the program. If you do not receive a message, please check your spam folder. Subject to availability, livestreaming tickets will be available via online purchase up until the program start time. If you need further assistance, please email public.programs@nyhistory.org.
Ticket Instructions:
By phone: Contact our call center at (212) 485-9268 from 9 am–5 pm daily.
Online: Click on the "Buy Tickets" button.
In person: Purchase tickets on site at the admissions desk during Museum hours.
Chairman's Council: To request tickets, email chairmanscouncil@nyhistory.org.
Members: Sign in with your Member login on the next page to receive your discount. If you need a login or have any questions, contact the call center at (212) 485-9268 or call.center@nyhistory.org.
Advance purchase is required to guarantee seating. All sales are final; refunds and exchanges are not permitted. Programs and dates may be subject to change. Management reserves the right to refuse admission to latecomers. Program tickets do not include Museum admission unless otherwise noted.
Advance registration closes four hours prior to program start time. Subject to availability, tickets will be sold onsite up until the program start time.