Women's History Salons
Weaving Witchcraft
Featuring: Elena Kanagy-Loux, Mame Tenczar, Keren Ben-Horin (moderator)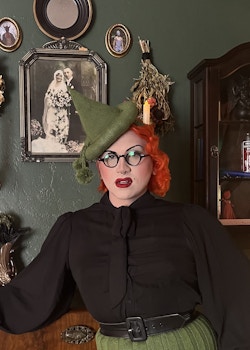 Event Details:
Presented Live On Zoom
At the time of Salem's infamous witch trials, the area just north of Salem Village was famous for something entirely different: its handmade lace industry. Known as Ipswich lace, it featured distinct floral, geometric, and abstract patterns, and was made almost exclusively by women. Skilled textile practitioners including weavers, spinners, and lacemakers transformed fibers and threads into complex webs—as if by magic. During periods of turmoil, women's knowledge—of medicine, healing, and textile making—has run the risk of threatening gender hierarchies. Textile makers have sometimes been accused of "spinning" or "weaving" spells through their work. 
Join us for a dynamic salon discussion about the historical entanglement of textiles and witchcraft with lace specialist and textile historian Elena Kanagy-Loux and self-identified witch, fiber artist, and knitter Mame Tenczar, whose craft reclaims the power of textile-making today. The conversation will be moderated by Keren Ben-Horin, fashion historian and Curatorial Scholar in Women's History, who co-curated New-York Historical's The Salem Witch Trials: Reckoning and Reclaiming, which is now on view in the Joyce B. Cowin Women's History Gallery through January 22, 2023.
Ticket Instructions:
By phone: Contact womenshistory@nyhistory.org or call (212) 873-3400 ext. 528
Online: Click on the "Register" button at the top of this page. If you need assistance, please send an email to womenshistory@nyhistory.org. 
The day before the program, all registered attendees will receive a link and instructions for viewing the program on Zoom. If you do not receive a message, please check your spam folder. An additional reminder will be sent within two hours of the program start time.
Lead support for the Center for Women's History programs provided by Joyce B. Cowin, Diane and Adam E. Max, Jean Margo Reid, and the Mellon Foundation.